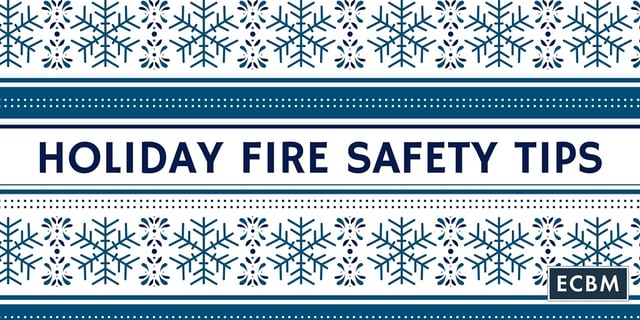 Did you know that nearly 156,000 fires occur during the winter holiday season, causing 630 deaths, 2,600 injuries and approximately $950 million in property damage?
It's the Holiday Season and we are all looking forward to parties and get together with our family and friends.
But before the season gets underway, Linda Cook (Personal Insurance Director at ECBM) thinks you should take a moment to think about fire safety in your home.
Avoid A Fire Tragedy During The Holiday Season
Candles
Candles are the #1 cause of home fires in the U.S.
Never leave a candle unattended or placed near a window curtain or any other flammable material.
Keep candles out of the reach of children as well as pets. You know what they say curiosity....the cat!
Do not think that just because a candle is in a glass jar or other type of container that it is safe. A candle can be upset if in a high traffic area and cause damage to property as well as your family and friends.
Fireplaces
It is very important to get your fireplace cleaned and inspected every year.
Have your chimney caps checked to be sure that it is secure and fasten tightly to not allow debris or animals to enter the chimney.
Be sure to properly dispose of fireplace ashes by placing them in a metal container. To be sure that the ashes are cool, wet down the container and set it outside.
Extension Cords and Holiday Lights
Never run cords under carpets. This is dangerous since the wire inside the cord could be exposed or pinched by heavy furniture which could cause a potential fire in your home.
Never use nails, tacks, or staples to secure cords or holiday lights.
Don't overload extension cords or use indoor extension cords outside.
So take a few moments to discuss these safety tips with your family to ensure a
Safe and Happy Holiday!
Enjoy the Season!
From your friends at ECBM