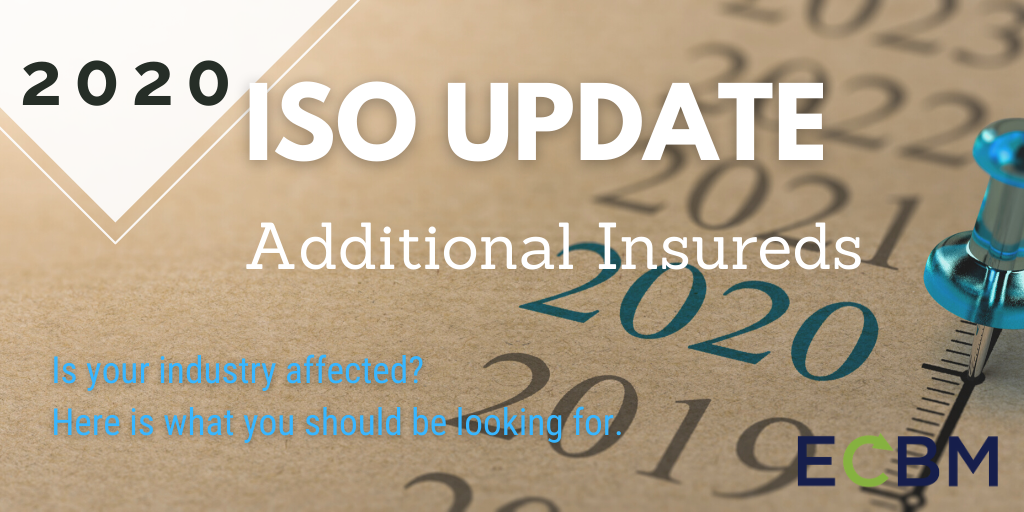 The Insurance Services Office, more commonly referred to as ISO, has issued a number of revised endorsements dealing with additional insured status. ISO is the company responsible for creating insurance industry standardized forms. These new revised endorsements will likely be used by the majority of insurance companies for their United States-based commercial general liability policies.
Important Updates For Additional Insureds
The most important new and revised endorsements involve completed operations coverage. CG 20 38 extended blanket additional insured status for ongoing operations whenever an insured agreed to extend this status in a written contract. This endorsement did not apply to completed operations. CG 20 37, which did apply to completed operations, required that each additional insured be added to and listed on the endorsement schedule. The new forms – CG 20 39 and CG 20 40 – will simplify matters for many insureds and insurance agents by avoiding the need for extensive additional insured lists for completed operations.
Updates For Owners And Contractors
CG 20 40 is meant for Owners and Contractors. It will extend additional insured status to any entity that the insured agrees to extend that status to. So if the insured agrees in a contract to add a third party such as a landlord or other party as an additional insured, CG 20 40 will give that third party the appropriate status. CG 20 39 however, requires that the party being named as additional insured have a direct contractual relationship with the insured before additional insured status will be extended. Third parties are not covered.
Recommendations For Architectural or Engineering Companies
It is also worth noting that both CG 20 39 and CG 20 40 specifically exclude coverage for professional services, including architectural or engineering activities. Companies engaging in such activities will have to make sure they have professional liability coverage to insure against bodily injury or property damage arising from these services.
Benefits For Third Parties
ISO has also revised several other endorsements related to additional insured status and the coverage additional insureds receive. Language in a host of additional insured endorsements has been updated to make it clear that the endorsements do not increase the applicable limits of insurance. Coverage provided to additional insureds under a commercial general liability may decrease the amount of coverage available to the named insured and insureds should always bear this in mind when agreeing to grant additional insured status to customers or vendors. Additionally, a revision to the waiver of subrogation endorsement – CG 24 04 – eliminates the need for a direct contractual relationship between the additional insured and the named insured before a waiver of subrogation applies. This is hugely beneficial to third party beneficiaries of contracts, as it extends any waiver of subrogation to them and their activities provided the contract includes such provisions.
Key Takeaways For Insureds
Collectively, these endorsements should simplify matters for most policy holders and increase the accessibility of additional insured status, making it easier to do business. Having said that, it is important for insureds to understand the benefits and disadvantages of granting additional insured status and how it might negatively effect them. That means keeping abreast of new developments such as these revisions and additions.