FOR IMMEDIATE RELEASE
ECBM Insurance Brokers & Consultants Teams Up To Volunteer At Cradles To Crayons For Insurance Industry Charitable Foundation's Week of Giving

The 2017 IICF Week of Giving will be October 14-21.
West Conshohocken, PA, October 19, 2017 – ECBM Insurance Brokers & Consultants (www.ecbm.com) is participating in this year's Insurance Industry Charitable Foundation's Week of Giving
ECBM Insurance Brokers & Consultants has provided commercial insurance brokerage and consulting services to the Mid-Atlantic region since 1970. Charlie Bernier, along with Gloria Forbes and Rick Eckert, assumed ownership of this independent firm in January, 2001. Their combined vision was to bring national account services to all of their clients cost-efficiently, and they have been doing so ever since. ECBM participates in many different community service and charity events that touch the lives of our employees and serve our community including St. Baldrick's Foundation, Cradles To Crayons, Operation First Response, The Conshohocken Little League, The Breathing Room Foundation, The Borough of West Conshohocken, The Wissahickon Valley Watershed Association, local food bank charities, The Arc of Hundterdon County, MuckFest MS for The National MS Society, and The National Kidney Foundation's Kidney Walk.
"Throughout the day ECBM team members help with a variety of tasks at the warehouse. People are sorting donations, doing quality checks, stocking shelves, creating outfits, and putting together care packages with a smile. I think this is one of my favorite events that ECBM participates in in," says Jen Rossi, Digital Marketing Manager for ECBM. "It's like being a personal shopper sometimes, and looking at all of the cute baby clothing never gets old."

The Insurance Industry Charitable Foundation (IICF) is a unique nonprofit that unites the collective strengths of the insurance industry to help communities and enrich lives through grants, volunteer service and leadership. IICF's Week of Giving is an eight-day, industry-wide volunteer initiative during which we bring together insurance professionals for volunteer projects and service with neighborhood and community nonprofit organizations throughout the United States and United Kingdom.
IICF has hosted this largest ongoing volunteer initiative in the insurance industry since 1998, contributing more than 240,500 hours of volunteer service. In 2106, a record number of insurance industry volunteers (8,500) participated in the IICF Week of Giving, in a record number of cities (115), and serving more than 21,700 volunteer hours through over 400 volunteer projects.
According to the U.S. Census Bureau, Philadelphia has the highest poverty rate among the nation's ten largest cities. Nearly one in four Philadelphians, including 130,000 children, live in poverty.

You can get in touch with Cradles to Crayons via their website: https://www.cradlestocrayons.org/
More About Cradles To Crayons
Cradles to Crayons provides children from birth through age 12, living in homeless or low-income situations, with the essential items they need to thrive – at home, at school and at play. We supply these items free of charge by engaging and connecting communities that have with communities that need.
The Model That Brings Our Mission to Life
Our efficient and effective three-step model provides kids with the essentials they need, free of charge. This enables us to engage communities that have, connecting them with communities that need.
New and nearly new children's items are collected through grassroots community drives and corporate donations.
Donations are then processed and packaged by volunteers in our warehouse, The Giving Factory®.
Packages from The Giving Factory are distributed to local disadvantaged children — through our collaborative network of diverse service partners.
Read More on the Cradles To Crayons Website
Some pictures from the day's volunteer work: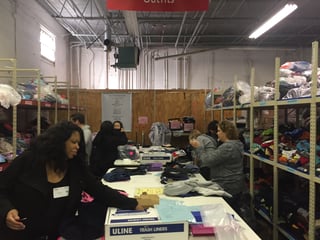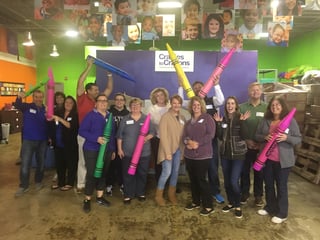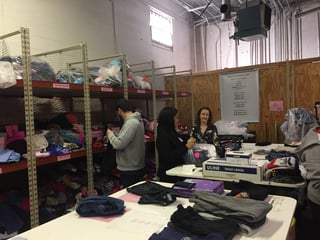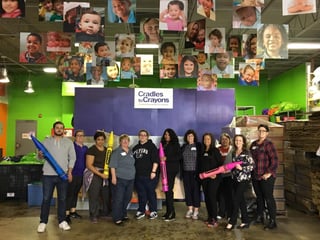 ###