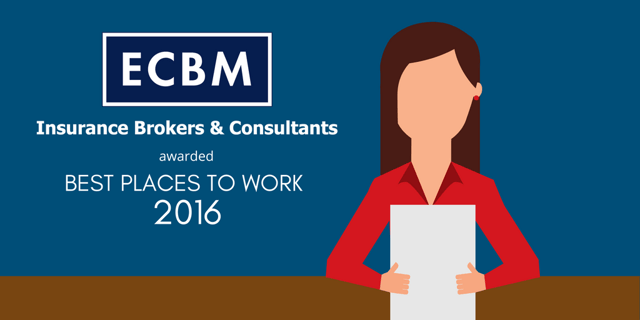 FOR IMMEDIATE RELEASE
ECBM Insurance Brokers & Consultants Named in Business Insurance's
Annual Best Places to Work in Insurance
Award Recognizes Outstanding Employers in the Insurance Industry
West Conshohocken, PA, October 6, 2016 – ECBM Insurance Brokers & Consultants (www.ecbm.com) today announced that it had been named in the annual Best Places to Work in Insurance program, which recognizes employers for their outstanding performance in establishing workplaces where employees can thrive, enjoy their work, and help their companies grow.
ECBM Insurance Brokers & Consultants has provided commercial insurance brokerage and consulting services to the Mid-Atlantic region since 1970. Charlie Bernier, along with Gloria Forbes and Rick Eckert, assumed ownership of this independent firm in January, 2001. Their combined vision was to bring national account services to all of their clients cost-efficiently, and they have been doing so ever since.
"We are so grateful! To think that our staff believes enough in ECBM to vote us as a Best Places to Work in Insurance... On behalf of the leadership and management team, we are humbled." says Executive Vice President Gloria Forbes
This important designation ensures that ECBM is on a path of success in pursuing our core values which include:
Empathy and Caring... for our clients and for one another

Tenacious problem solving, while being results focused

Maintaining accountability... and owning it!

Exhibiting positive "can do" energy, while questioning the standard... keep asking questions

Showing dedicated loyalty in the service of the greater good
Best Places to Work in Insurance is an annual feature presented by Business Insurance and Best Companies Group that lists the agents, brokers, insurance companies and other providers with the highest levels of employee engagement and satisfaction. Harrisburg, Pa.-based Best Companies Group identifies the leading employers in the insurance industry by conducting a free two-part assessment of each company. The first part is a questionnaire completed by the employer about company policies, practices and demographics. The second part is a confidential employee survey on engagement and satisfaction.
The program divides employers into the categories of small, 25-249 employees; medium, 250-999 employees; and large, 1,000 or more employees. This year's report features 74 companies of various sizes, from 25 employees to more than 6,500.
The ranking and profiles of the winning companies was published in the Nov. edition of Business Insurance and online at BusinessInsurance.com.
Business Insurance is the authoritative news and information source for executives concerned about risk and the impact on their business. With information for risk managers, insurers, brokers and other providers of insurance products and services, Business Insurance delivers in-depth analysis on new and emerging risks, case studies of successful programs, market intelligence on trends, and guidance on how to capitalize on opportunities and overcome challenges.
In addition to a monthly print magazine, Business Insurance provides essential news via its website, BusinessInsurance.com; daily and weekly e-newsletters; and breaking news via email news alerts. To subscribe, please contact Business Insurance at info@businessinsurance.com.
Best Companies Group works with partners to establish "Best Places to Work," "Best Companies," and "Best Employers" programs on a national, state-wide and regional basis. Through its thorough workplace assessment using employer questionnaires and employee satisfaction surveys, Best Companies Group identifies and recognizes companies that have been successful in creating and maintaining workplace excellence.
###