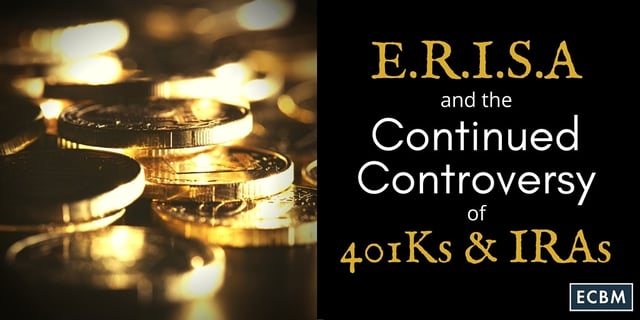 Continuing a trend of aggressive new regulations in the labor field, the Department of Labor has issued controversial new rules on the handling of employee retirement plans. The Employee Retirement Income Security Act (ERISA) gives the DOL authority to regulate financial advisors providing investment advice on retirement plans - specifically 401(k)s and IRAs. The new regulations attempt to target conflict of interest concerns by expanding the scope of the agency's fiduciary rule.

Who Bears The Responsibility Of Responsibe Financial Planning?
The Department of Labor rules require that a fiduciary provide investment advice in the best interests of the client, rather than simply suitable advice appropriate to the client's needs. The expansion of this regulation would apply a fiduciary standard to any person providing individualized advice on the buying or selling of specific stocks.
The proposed new rule would require significant disclosure of potential conflicts and would encourage fee-based investment advice over commission-based advice. The rule has raised concerns of the effect the disclosure requirements would have brokerages, potentially making obtaining sound investment advice more expensive. Others have argued that these brokerages should already act in the client's best interests and the costs of compliance will be minimal.
The Securities and Exchanges Commission (SEC) has its own rules and regulations on who qualifies as a fiduciary and how they define that standard. These rules and regulations can differ significantly from the Department of Labor standards - similar to the multiple competing definitions of who qualifies as an employer under various government statutes and regulatory agencies. The SEC is working on its own proposed expansion to its fiduciary duty rule, but has clashed with the Department of Labor over DOL's proposed rule.
A report released by the House Committee on Governmental Affairs included a disputed exchange between an SEC and DOL economist in which the DOL economist tells the SEC economist angrily to stop emailing him. The SEC economist stated he no longer saw the purpose of the rule, thinking it no longer seemed to address the conflict of interest issue originally set forth as its objective.
What Employers Need To Know
ERISA lawsuits have seen increasing payouts in recent years. Employers have an ongoing obligation to monitor the performance of their retirement plans and the performance of those advisors managing these plans. Those employers offering retirement plans to their employees need to stay abreast of these changes to the law and how it will affect the performance and cost of their plans.