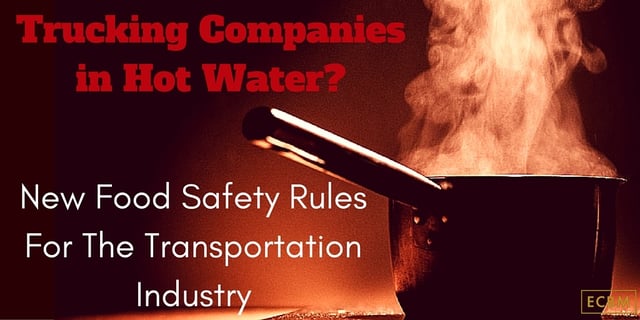 On April 6, 2016, the Food and Drug Administration issued its new rule on food safety in
The food safety in transportation rule constitutes the sixth of seven final rules the FDA planned to enact pursuant to the Food Safety Modernization Act. Other rules have focused on produce safety, certifying foreign suppliers of ingredients, or good manufacturing procedures for animal providers.
What Is The Sanitary Transportation of Human and Animal Food Rule?
Called the Sanitary Transportation of Human and Animal Food Rule by the FDA, the rule will begin to take effect in April of 2017.
The agency received over 200 comments, mostly from organizations and companies within the industry, on the original proposed rules and made changes to that proposed rule to refocus it more on avoiding risks from food transportation rather than on quality of food issues.
Who Does The Rule Apply To?
The rule attacks food safety in transportation by establishing regulations and requirements focusing on four key areas: vehicle and transportation equipment, transportation operations, training, and recordkeeping. READ MORE: What the Chipotle Outbreak Taught Us About Public Safety And Public Relations For Business
Vehicle and transportation equipment:
The new rule requires that transportation equipment used for transporting food must be built and maintained so that they remain sanitary. The specific language states, "Vehicles and transportation equipment used in transportation operations must be so designed and of such material and workmanship as to be suitable and adequately cleanable for their intended use to prevent the food they transport from becoming unsafe . . ." with similar language in an accompanying provision requiring that the equipment be maintained so that transported food does not become unsafe. Additionally, the rule requires that refrigeration equipment used to keep food at appropriate temperatures be equipped and maintained to ensure food does not become unsafe. However, a provision requiring an indicating thermometer or temperature recording device was removed for being unworkable.
Transportation Operations:
The transportation operations section of the new rule is by far its longest and most extensive. Generally, it requires shippers, carriers, loaders, and receivers of food items to supervise their operations to ensure effective measures are in place to ensure food does not become unsafe. This requires taking measures to prevent cross-contamination, failure of temperature control systems, or raw food contacting cooked food. It imposes affirmative obligations on shippers, carriers, loaders, and receivers to ensure food they know has become unsafe is not sold.
Training & Recordkeeping:
The rule requires that carriers ensure that appropriate personnel are trained in basic food safety issues and sanitary transportation practices and keep adequate records of such training. Carriers must also keep written records of their cleaning, sanitizing, and inspecting procedures as well as their temperature regulation processes.
The rule has two separate phase-in dates, one for large carriers and another for small carriers. The FDA intends to offer several webinars and training to update shippers, carriers, loaders, and receivers on the impacts and requirements of the new rules.
Anyone impacted by the rule should update their processes and procedure to ensure they remain in compliance with all applicable legal standards.