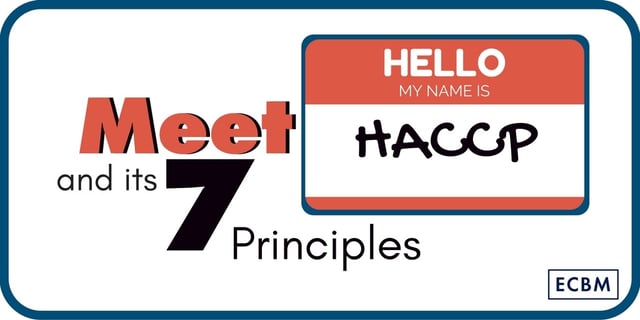 The Food and Drug Administration and Department of Agriculture attempts to manage food safety for meat, seafood, and juice through the use of what are known as HACCP - Hazard analysis and critical control points. HACCP has seven principles for implementation: conducting hazard analysis, determining critical control points, and establishing certain standards and procedures based on those hazards and control points. While many food producing companies and those that handle food products are aware of the HACCP requirements it is good to review them periodically. They are outlined below:

Principle 1: Conduct a hazard analysis.
Hazard analysis involves a two step process. The first basically involves a brainstorming session: a HACCP team involves all aspects of a product, including its ingredients, processes, equipment, storage, and intended consumer use and lists all potential biological, chemical, or physical hazards that each could step could introduce to the production process. The second step involves the use of severity/likelihood matrix to determine which potential hazards the HACCP plan needs to address. The more severe or the more likely the potential hazard, the more the HACCP plan should address it, whereas hazards that seem negligible do not need to be addressed in the HACCP plan itself (though this does not mean that a company should give no thought to addressing those hazards).
Principle 2: Determine Critical Control Points.
The determination of critical control points rests on the ability of a company to implement a safety measure at a certain point in the food manufacturing process to mitigate against potential hazards. Examples might include refrigeration of a product after pre-cooking. Companies should determine which steps they can take at different points in the food production process to determine where the critical control points for each item are and how to implement the correct measures at that point.
Principle 3: Establish Critical Limits.
To establish a critical limit, a company looks at their testing procedures employed to warn of food safety hazards and establishes line over or under which it will deem food unsafe. This might include ensuring through periodic testing that cooked hamburgers patties reach a particular internal temperature for a specified period of time.
Principle 4: Establish Monitoring Procedures.
This principle means that companies should establish appropriate testing times and methods to ensure food safety as well as that companies assign responsibility for monitoring critical points to ensure safe products to specific individuals as well as the keeping of written records to verify critical limits are not exceeded.
Principle 5: Establish Corrective Action.
Companies should have designated action plans already in place for when critical control points fail and food becomes unsafe. This has two different prongs: one should focus on ensuring that unsafe product does not reach consumers and the other should focus on bringing the production line back into compliance with the established critical limits.
Principle 6: Establish Verification Procedures.
Think of this principle as a monitoring program for the monitoring program. Establishing verification procedures means establishing a number of processes to ensure that the HACCP process functions as intended and that the HACCP plan itself is not failing. HACCP is based on the idea that end-testing itself may not be an effective or practical control for food safety programs and therefore the HACCP system institutes procedures to ensure that end-testing is not necessary by establishing controls at intermediate steps. If the HACCP plan established by a company breaks, however, the controls at the intermediate steps have failed and a company may release an unsafe food product to consumers. Companies need to monitor their HACCP plan to ensure compliance and avoid this.
Principle 7: Establish Record-Keeping and Documentation Procedures.
This involves ensuring that the company keeps appropriate records on their suppliers, monitoring schedules, test results, and all the other documentation created by the HACCP plan so that it can be checked at a later date if necessary, as well as ensuring that the company maintains appropriate records of its initial hazard analysis and HACCP plan summary.
MORE HERE: