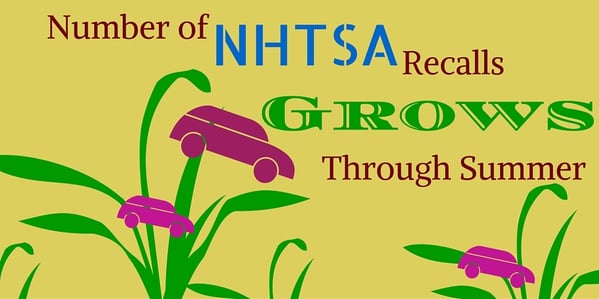 Automotive recalls have reached record highs. Car manufacturers have recalled over one hundred million vehicles in the past eighteen months. In the past weeks Ford, Subaru, and Acura have all issued recalls affecting another half million or so vehicles.
The reasons for the recalls vary. Some result from National Highway Traffic Safety Administration investigations. Others involve errors in new safety technologies. Some of the flaws are caught prior to causing known issues. Some have been known about for them for years without manufacturers taking appropriate action. Some are only discovered after a climbing death toll sparks an investigation. As a result, auto makers are conducting more recalls than ever before and are agreeing to numerous government audits.
Given that there are an estimated 250 million automobiles on American roads, that 100 million vehicles have been recalled in 18 months is staggering. Estimates allege that there are approximately 50 to 60 million unrepaired recall vehicles driving American roads. While overall traffic safety numbers decline, the heightened number of recalls is causing concern amongst consumers.
A major factor in the large number of recalls is the Takata airbag recall. This single recall has affected 23.4 million vehicles. These vehicles have model years dating back to 2002 and – since the defects were originally discovered in mid-2014 – has expanded. 10 different auto makers are recalling vehicles related to just this issue.
The company acknowledged in May that defects in some air bags. The defect has been linked to eight deaths and more than 100 injuries. Takata is cooperating with regulators.
Changes On The Horizon
For many years, government regulators were relying on manufacturers to report defects and initiate a recall on their own. This relaxed procedure allowed for a failure to spot the now infamous GM ignition switch defect- now linked to more than 120 deaths.
The Costs To Automakers
Repairs initiated by vehicle recalls are free to the consumer; the manufacturer bears the cost of the recall.
Fiat Chrysler reached a settlement with regulators that added up to $105 million- for mishandling recalls. The new sense of urgency from regulators uncovered these blunders in the management the recalls of more than 11 million vehicles.
Here's the breakdown: $35 million for each of these safety lapses.
Misleading and obstructing regulator

Inadequate and lagging repairs

Failing to alert vehicle owners to recalls in a timely manner.
FCA US has … agreed to undertake specific actions to improve its recall execution. The consent order will be supervised by an independent monitor and will remain in place for three years… (Press Release Fiat Chrysler Automobiles July, 2015)
Summer 2015 Has Seen Increased Recalls
Fiat Chrysler is getting hit again with a recall of 1.4 million vehicles due to a possible cybersecurity flaw. Hackers were able to demonstrate an ability to take the control away from a driver in a moving vehicle from miles away.
GM is dealing with a recall of more than 160,000 Hummer SUVs in the U.S. The model years affected range from 2006 to 2010. Regulators contacted the manufacturer with concerns of possible fire hazards.
Complaints received in September 2014 caused an investigation related to an HVAC issue causing the fires. A result was found "mismatched electrical conductivity could result in overheating and melting of the blower motor connector module." The case was closed in April of 2015, without any action from GM.
Fast forward to June 2015, General Motors representatives were forced to reconsider their lack of action in a meeting with NHTSA officials. This meeting was required under an agreement to meet monthly about safety topics after the ignition switch controversy. A formal investigation was opened on the regulators' side after a high number of complaints were recorded.
This is a costly issue for GM as the car maker no longer makes Hummers. The brand as part of the company's 2009 government-brokered bankruptcy restructuring. Over 196,000 vehicles in North American will be a part of this recall.
More Changes To Come
Regulators are being given more power.
The U.S. Senate has approved raising maximum penalties to $105 million
For more on this development:
What Can Owners Do?
Check if your vehicle has a recall
The National Highway Traffic Safety Administration site safercar.gov will allow car owners to run their vehicle identification number dating to see if it has been subject to a recall.
Repair your vehicle!
According to safety advocates, regulators, and CarFax, about 1/3 of all recalled cars and trucks do not get the repairs that are needed.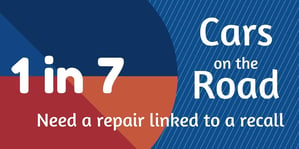 Given the pure breadth and length of recent recalls, car owners are advised to run a quick check to make sure their vehicle is as safe as possible.
You can even sign up for recall alerts on the NHTSA website.