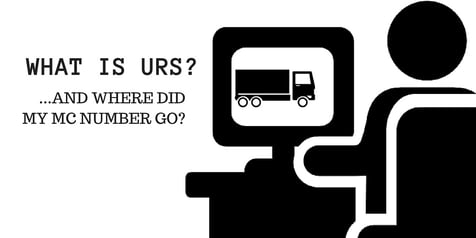 The Unified Registration System is a new electronic on-line registration system that will streamline and simplify the Federal Motor Carrier Safety Administration's (FMCSA) registration process and will serve as a secure database of all entities that are regulated by the agency.All interstate motor carriers (private and for-hire of passengers and freight), brokers, freight forwarders, Indermodal Equipment Providers (IEPs), hazardous materials safety permit (HMSP) applicants/ holders, and cargo tank manufacturing and repair facilities must now register with this new system.
Ruled on in August of 2013, the goal of this system is to eliminate paper, move records to a digital format, and allow for easier location of registration information as it will all be tracked in same system
MC, MX, and FF numbers will no longer be issued
The most important difference? MC, MX, and FF numbers will no longer be issued. This will mean that DOT numbers will be the sole identifier for all companies who are subject to FMCSA regulation, including motor carriers.
The USDOT Number serves as a unique identifier when collecting and monitoring a company's safety information acquired during audits, compliance reviews, crash investigations, and inspections.
Companies that operate commercial vehicles transporting passengers or hauling cargo in interstate commerce must be registered with the FMCSA and must have a USDOT Number. Also, commercial intrastate hazardous materials carriers who haul quantities requiring a safety permit must register for a USDOT Number.
In general, companies that do the following are required to have interstate Operating Authority (MC number) in addition to a DOT number:
Operate as for-hire carriers (for a fee or other compensation)
Transport passengers in interstate commerce
Transport federally-regulated commodities or arranging for their transport, in interstate commerce
Businesses requesting Operating Authority as a freight forwarder in interstate or foreign commerce. Freight forwarders arrange transportation of goods by FMCSA-licensed carriers. Freight forwarders issue bills of lading to shippers and are responsible for the loss of or damage to the goods.
Mexican Carriers for Motor Carrier Authority to Operate Beyond U.S. Municipalities and Commercial Zones on the U.S.-Mexico Border
Effective Dates:
November 1, 2013- Compliance date for the biennial update requirements because motor carriers are required to update their registration information biennially under 49 CFR 390.19.
October 23, 2015- Effective date to comply with the remaining URS requirements to provide time for the Agency to launch the website that can be found here.
Why not keep DOT and MC Numbers?
FMCSA believes that better safety records can be kept by only using DOT numbers.
The agency has a department dedicated to DOT fraud- scamming the system by obtaining multiple tags, names, and common DOT numbers. This has been a long-time issue for the government, but also shippers wanting to work with safe carriers. By streamlining their processes, The FMSCA estimates a savings of almost $9 million from time and fees over a ten year period with this change.
The agency will also be able to better crack down on what are called "Chameleon Carriers" or "Reincarnated Carriers". These carriers scam the system by shutting down business operations under one name and carrier number, only to register shortly after as a new legal entity. Many companies were using this process to wipe the slate clean of regulatory compliance issues and public safety penalties- which falls under FMCA's watch.
The agency has been trying to gain control of this issue as it can cause great expense to FMCSA and to companies that are wrongfully accused of attempting this type of deception. The agency will be able to easily locate small and medium-sized private and exempt for-hire motor carriers. The investigators will be able to quickly contact these carriers, which in the past were harder to find.
Compliance:
An estimated 16 percent of new registrations are submitted through paper applications. These entities without access to the internet, would need to locate a third party processing agent, find access via public libraries or other options, and kiosks at truck stops and travel centers.
Common places to find internet access on the road:
Hotel business centers
Public Libraries
Tourism Offices
You can look up local WiFi Locations using this website: WiFi Freespot Directory
A few points about Public Wifi:
Be careful when accessing the internet via an unsecured wifi network. Be sure to use the encrypted version of a website's address. It will start with https:// (the s stands for secure)
Make sure your entire session says secure. With each page, confirm that the address starts with https. (some sites will only be secure on login pages)
Your information can be grabbed if you have an unsecured connection
More Information
URS/ Biennial Update Training Guide
Who to contact with questions:
FMCSA Information Line
800-832-5660
Or use alternate number: 606-330-3801