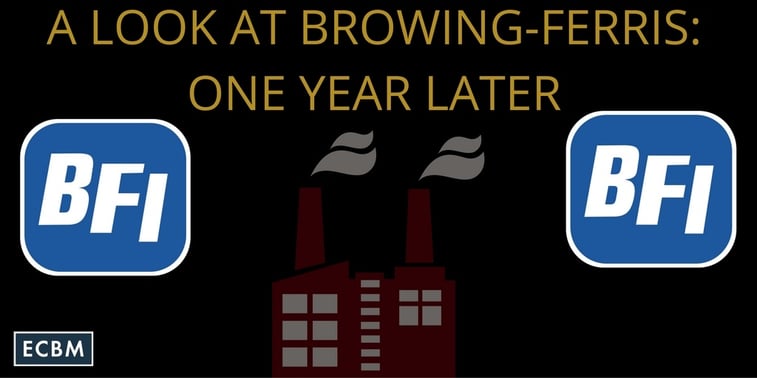 Last August, the National Labor Relations Board released a major decision in a case in involving the waste management company Browning Ferris Industries, more commonly known as BFI. The case sent shockwaves through the business company as it opened the door for a massive increase in potential liability for companies that use contracted labor.
Now, almost a year later, the impact of the Browning Ferris case continues to work its way through various agencies, a process somewhat complicated by the fractured nature of the United States' regulation of labor standards.
Many Groups Playing Catch-Up
Unionization Standards & NLRB
The National Labor Relations Board handles issues with respect to workers' attempts to unionize and the negotiation of collective bargaining agreements after unionization. The original Browning Ferris decision resulted from contracted workers in a California waste management plant attempting to unionize and seeking to negotiate terms with both their direct employer (a staffing agency) and Browning Ferris. In the wake of the NLRB decision however, multiple other federal agencies have also signaled their desire to implement the Browning Ferris framework in determining employer liability.
Wage & Hour Sets Standards
The Department of Labor's Wage and Hour Division issued its own standards for joint employer liability in January of 2016. These standards differ slightly from the Browning Ferris framework in terms of who will constitute a joint employer for wage and hour liabilities, but both expand liability to a joint employer on the basis of indirect control.
OSHA Makes Adjustments
Additionally, the Occupational Safety and Health Administration has also offered its own guidance on safety standards for temporary employees while working at host sites, though OSHA has long had its own completely different framework for holding multiple employers liable for employee safety based on employers who "create", "expose", "correct" or "control" workplaces hazards to which employees will be exposed.
EEOC Works To Define Joint Employer For Liability Purposes
The Equal Employment Opportunity Commission, which generally has jurisdiction over a host of employment-related discrimination claims, has also sought to clarify and expand its standards for determining joint employer liability. The EEOC filed an amicus brief in Browning Ferris in support of the eventual decision by the NLRB. A number of courts have already employed expanding definitions of joint employer liability applicable to discrimination claims.
Update For Browing Ferris As A Company
For the case itself, Browning Ferris has refused to comply with the order of the National Labor Relations Board. In January, the company was found guilty of refusing to negotiate with the union at issue. An appeal by the company to the United States Circuit Court for the District of Columbia followed. That appeal remains pending. Congress also attempted to overturn the NLRB decision in Browning Ferris through bills in both the House of Senate. Those bills made it out of committee but have not yet been passed by either legislative body.
What This Means For Your Business
Ultimately, it may takes years for the effects of the Browning Ferris case to work its way through the appellate, legislative, and regulatory processes. Yet employers for now face significant increased liability for contracted employees and issues related to certain temporary employees and franchise relationships remain pending. Employers must take action to remain ahead of the curve and review their employment relationships for potential liability issues.