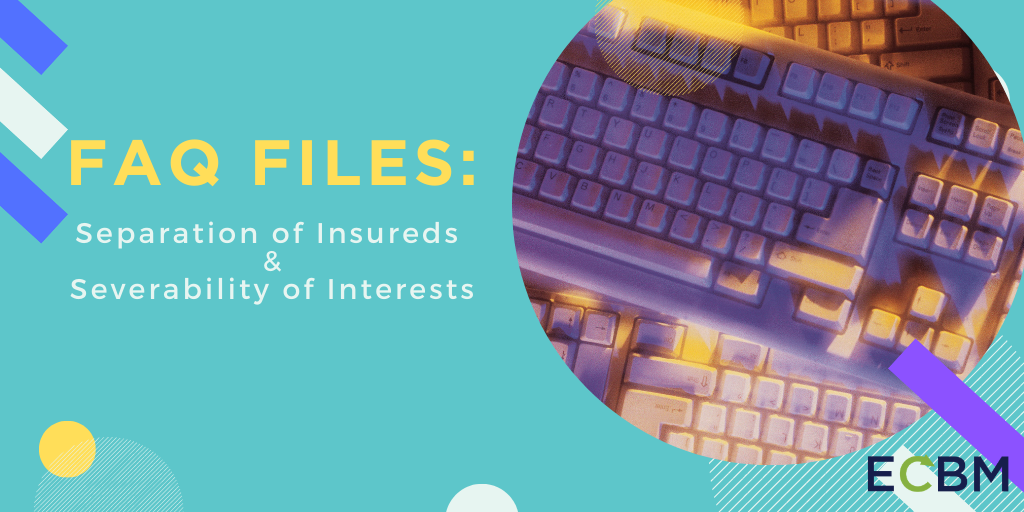 The Separation of Insureds is a standard policy condition of the commercial general liability policy. Also known as the severability of interests, the condition serves several purposes. Still, it can be quite complicated to understand in some of those contexts. As it is increasingly common for contractors to request or demand a separation of insured provision within a business's insurance policy, companies should make sure they understand the term and how it might affect them.
Cross Suits Exclusion
Traditionally, the commercial general liability policy included a cross suits exclusion. This exclusion meant that if one insured under the policy sued another insured under the policy, the policy would not provide coverage. One impact of the separation of insureds provision is that it eliminates any type of cross suit exclusion.
Common Ownership
The Separation of Insureds condition has several parts. The first states that the policy will apply to each named insured as if it is the only named insured. This provision is vitally important for maintaining coverage when there are multiple named insureds on a policy. As an example, imagine a commercial general liability policy with a business as the first-named insured and the real estate holding company with common ownership that owns the premises where the business operates. If the business were to damage property owned by the holding company, the separation of the insured provision would ensure that coverage would exist for this damage. In the absence of the provision, the Damage to Property You Own exclusion would prevent any of the named insureds from recovering for the loss.
Separation of Insureds
The second part of the Separation of Insureds condition states that coverage will apply separately to each insured. This provision is important for determining which coverages and exclusions apply to additional insureds. An additional insured might have coverage against the actions of the named insured's employee even if the named insured lacks coverage due to an exclusion.
Protection For Employees
This is a particularly big issue with respect to the employer's liability exclusion. Courts have struggled to determine when the separation of insured provision means coverage applies for the Named Insured for injuries to the employee of an additional insured or for an additional insured for injuries to an employee of the named insured. This determination can rest on seemingly inconsequential word choices. A major case out of Pennsylvania held that the employer's liability exclusion did not apply to a lawsuit against a named insured filed by an employee of the additional insured. The Court's decision rested on the distinction between "the" insured – i.e. the party seeking coverage – and "an" insured, meaning all insureds under the policy. Because the party seeking coverage is considered wholly divorced and separate from the other insured entities due to the Separation of Insured provisions, an employee of another insured entity is not an employee of "the" insured.