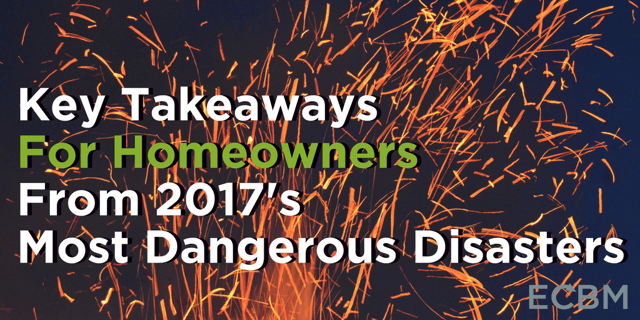 2017 had been a bad year for natural disasters in the United States. On the back of multiple strong hurricanes causing billions of dollars worth of damage in the southeastern part of the country, wildfires on the Pacific coast have sent thousands of structures up in smoke.
Back To Back Wildfires In California
The wildfires started in October with hazardous fires affecting California's wine country. The blazes have also caused significant damage in the southern part of the state over the past two months. Loss estimates from wildfires for the nation had already exceeded ten billion dollars before the rash of Southern California fires started.


Continuous Trouble For Homeowners
The loss of homes and treasured belongings places an immense burden on those who suffer from these blazes. When many disasters that affect homeowners hit one right after another, complications in the insurance marketplace can significantly increase. In the wake of the early October fires, property insurers in the state of California had already started limiting the issuing of new policies to protect themselves from excess losses when the new batch of wildfires ignited. Obtaining good coverage following a series of disasters may be the least of a homeowner's worries.
Backlog At The Insurance Companies
As losses pile up, the ability for companies to process the incoming claims slows down. The delay means homeowners often have to wait longer to receive compensation for the damages they had suffered. The total loss of a home to fire damage creates some issues in processing a claim- which slows that process down even further. On top of that, insurers may find their reserves for covering losses stretched thin in the wake of so many disasters in a single year, slowing down compensation payments even more.
Supplies And Workers In Demand
Finding contractors available to begin work on rebuilding your home creates problems when eight thousand of your neighbors need to do the same work completed at the same time, all in a short amount of time. That much rebuilding in one area causes material and labor costs to increase significantly, compounding the cost to make homes habitable again, and raising the cost of claims. It may be months, or in some cases even years, before rebuilding work can begin, forcing policyholders to find and pay for temporary housing during this process.
Problems Even Before The First Spark
These issues are all compounded by the fact that sixty percent of American homes are underinsured. Someone with a five hundred thousand proposal to rebuild their home may discover way too late that the homeowner's policy has a three hundred fifty thousand dollar limit. Such a situation means the homeowner will face serious financial challenges to recoup the actual value of their losses. It also means their policy will not have reserves left to cover the loss of personal property within the home.
What You Can Do Now To Protect Your Assets
Linda Cook, VP of ECBM's Private Client Group has some advice that homeowners can take steps before disasters to avoid many of these troublesome outcomes. "Policy owners should always review their policies to ensure that they reflect the actual value of their home and its contents. Additional coverage options also exist to cover unexpected cost increases. " She also recommends that people do things as simple as make a record through photographs or videos of their belongings. "This easy step can help expedite parts of the claim process," says Linda. Insurance exists to help people recover from perils like these, but policyholders can make that process easier by being active before disaster strikes.