---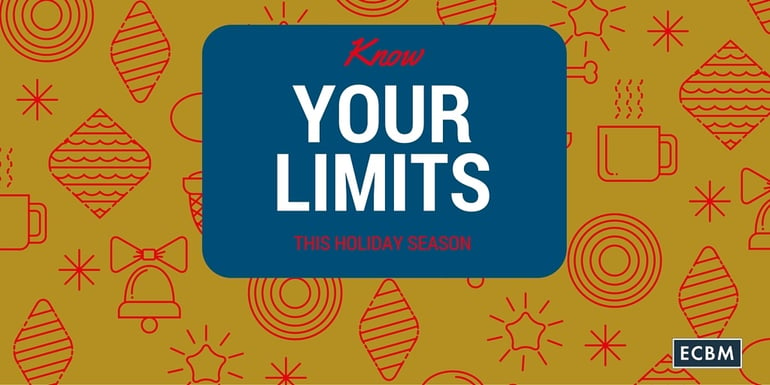 The holiday season… it's almost here. A mix of consumerism, parties, loved ones, responsibilities, traditions, and emotions is enough of make many panic when trees are set up, music tastes change, and this year's must-haves start appearing on store shelves. (Take a breath, we'll get through it together) The perceived bar that we set for ourselves can make a time of happiness into a time of financial burdens, anxiety, and stress that we feel… Even months after the last gift is exchanged.
---

But let's take a new approach and prepare our expedition for a more enjoyable journey this year, shall we?
Step 1: Know Your Limit For Holiday Spending
Many households have a household budget for groceries, gas, utilities, entertainment, and other categories. How you spend during the holidays should also be part of your overall financial plans. Deciding on a lump sum that you are comfortable with spending this year is a start, but it's smart to plan how those funds will be divvied up before you begin shopping.
Step 2: Planning Ahead For Holiday Shopping
Make a list- include each person/ group that you would like to give a gift to or make a donation to. Your list should remain mostly the same from year-to-year. Think about what type of gift that you would most likely purchase for that person and include it on your list. You should be able to find a price range for most gifts online, in catalogs, or in stores.
Doing Some Recon
This is also a great opportunity to compare models of digital cameras, look at reviews for the hottest toy, and to confirm your price estimates. Consumer Reports offers in-depth reviews of just about any type of product, but if the cost of membership is a barrier, Cnet.com can help with most tech items, and Amazon.com is a great resource for reviews, suggestions, and a community to answer questions about products.
Make A Plan Of Attack
Put shopping days, events, and other plans on a calendar. This step may be helpful in combining shopping trips and reducing stress. Include your time for your health on your list. Keep your exercise routine, sleep schedule, and other responsibilities on track during this busy time of year.
Do The Math
Here's a helpful calculator from Practical Money Skills.com for divvying up your spending on holiday expenses.
Step 3: Trim Your List For Savings And Stress Reduction
How close did your total come to the starting available balance? Don't be afraid to trim your list- these are your finances we are talking about here- and you haven't given the gift to that person yet. So let's evaluate if you could maybe think of a different gift or if you should possibly remove that individual from your list. Couple's gifts, gifts just for the children, Gift Exchanges, and family gifts are becoming more popular with our growing list problem.
Here's a guide to types and sample rules of gift exchanges from Mental Floss.

Step 4: Saving When You Can
Don't be afraid to start early- stowing away gifts for loved ones... Just keep track of them on your list so you don't forget about them. Another reason, aside from savings is the "perfect gift" may be a seasonal item. Have you ever tried to find beach gear in December in the Northeast?
Planning For Flash Sales
Hit the after Thanksgiving sales if you dare, if possible, check out Blackfriday.com- the site collects the ads from many chains to make the most of your adventure. This also allows you to see if the price being offered in-store at a doorbuster sale is better than what you can find online- with free shipping. If online shopping is your preferred tactic, you would be more inclined to check out Cybermonday.com- the official Cyber Monday website. RetailMeNot.com and dealspotr.com also offer coupons and website shopping codes from a community of shoppers.
Free Shipping Day
December 18, 2015 is free shipping day this year. Check out FreeShippingday.com for the list of merchants participating. Be sure to check out their site to confirm your favorite merchant is on their list.- You can sign up for a reminder on their site as well.
Feeling Crafty?
Check out some lists of homemade gifts that could help with your list. If you are a member of the social media platform Pinterest, I am sure your boards have some recipes to try and things you can make to help you meet your unique gift-giving goals. DIY Ready has some other homemade gift ideas- many do not require special tools or skills.
Step 5: Reduce Your Stress During The Holidays
Stress, depression, and the holidays all seem to get together annually. With all of the demands on people including parties, shopping, cleaning, year-end projects at work, entertaining, and regular daily responsibilities on top.
Be realistic about your goals- the holidays change, as do traditions.
Choose what is most important to you and consider new ways to celebrate. Rather than travelling, would a phone call or video appearance suffice? Would buying a frozen pie ruin a meal? Instead of being alone, can you use your time to volunteer?
Unhappy Guests
Setting aside differences and grievances are easier said than done. And any group when brought together will have its set of drama from dueling personalities. When these situations arise, try to establish a better time to discuss issues. Try to be understanding if others get upset when something goes awry. This person may be experiencing the effects of holiday stress too.
Stay On Track For Positive Memories
Remember your budget and list? Sticking to your budget and making a list may help with anxiety for some. A stack of gifts and stress from the financial burden may not be the memories that you want to take from the holiday season.
Seeking Help If You Need It
Even with planning ahead and creating a zone of calm, you may find yourself feeling symptoms of depression. Inability to sleep, feeling persistently sad or anxious, physical pain, irritability, and unable to face routine tasks are all common symptoms of depression or SAD (Seasonal Affective Disorder) your doctor will be able to help, but in an emergency do not hesitate to call for help- 911 if you need immediate assistance or are feeling suicidal. The National Suicide Prevention Lifeline's Phone Number is 800-273-TALK an online chat option is also available here.
As hard as it may be to keep stressors in perspective, it's important that you take time for yourself to relax and unwind from the To-Do list every once in a while. Setting your expectations as a realistic goal for you and your lifestyle may be the best way for you to handle the hectic holiday season.
---