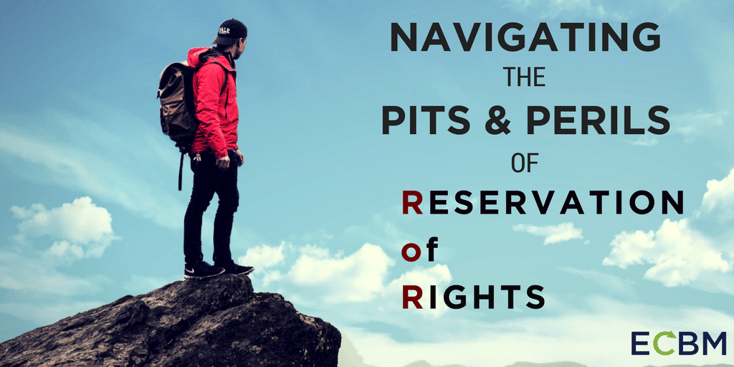 A lot can happen in the early part of an insurance company's handling of a claim. The insurer must often begin its own investigation of a claim at the same time it prepares to defend itself and the insured against a potential lawsuit while sometimes also trying to determine what defenses it may have against paying out the claim to the insured. It is common in these situations for insurance companies to issue a reservation of rights letter.
What Is A Reservation Of Rights Letter?
While the technicalities of the reservation of rights letter and its consequences may vary from state to state, the principle remains the same. It lets an insurance company provide an insured with the initial defense to a lawsuit filed by the opposing party while allowing the insurance company to argue at a later date the policy does not cover the claim.
The reservation of rights prevents an insured from arguing that the provision of the defense constitutes an admission of coverage on the part of the insurance company.
The Reservation of Rights evolves out of an insurance company's duty to defend.
Because the duty to defend is greater than the duty to indemnify, the insurance company may have to defend against allegations in a lawsuit that they would have no obligation to pay.
How Can A Reservation Of Rights Work In Favor Of Your Company?
The Reservation of Rights has a number of potentially serious consequences for companies involved in litigation. Several states have held that the reservation of rights creates a conflict between the insurance company and the insured. This would then entitle the insured to independent counsel hired by the insured but paid for by the insurance companies. This is known as Cumis counsel, after the court case where the concept was first made law. Other states require a more factual analysis into the case before allowing an insured Cumis counsel. Even then though, a reservation of rights is an opportunity for an insured to gain greater control over their defense to a claim.
How Can A Reservation Of Rights Work Against Your Company?
For similar reasons, a reservation of rights can affect settlement negotiations. Normally, an insurance company tries to make settlement decisions on a purely financial light by comparing the probability of success in court with potential damages amounts and the cost of litigation. However, in a situation wherein the insurer may still try to deny a claim payout while still engaging in settlement negotiations, the insured needs to ensure that their own rights are protected. This also creates room for an insured to take greater control of settlement negotiations and pursue settlement strategies in their own best interest.
A reservation of rights may also allow an insurance company to seek reimbursement of already provided defense costs if it is later determined that the insurance company had no duty to defend. Again, this differs significantly from state to state. Some states allow insurers to pursue reimbursement and others do not. Pennsylvania for example, does not allow reimbursement.
A reservation of rights can create a lot of headaches for an insured. The last thing any company wants during litigation is greater uncertainty. Still, the reservation of rights also gives an insured greater control over litigation and defense and smart companies that know their rights and view a ROR as an opportunity can take advantage of these situations.