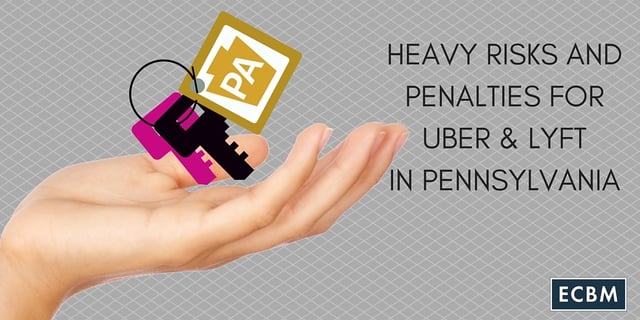 Companies like Uber and Lyft continue to make headlines both for the opportunities and the challenges they present. Known alternatively as ride-sourcing companies or transportation network companies, Uber and Lyft present a number of regulatory and insurance-based risks. These businesses have come under increasing pressure from lawsuits filed by both taxi companies and their own drivers. Suits have also risen between drivers and passengers. Finally, the company also faced a lawsuit resulting from a 2014 data breach in which hackers accessed the personal information of more than 50,000 drivers.
In Pennsylvania, the Public Utility Commission has granted Uber and Lyft an experimental license that runs for two years. As part of that license, PUC has required that Uber and Lyft provide auto insurance coverage for drivers when they have the appropriate app open. Uber even provides a certificate of insurance drivers can access online. Yet the experimental license has not shielded the companies from regulatory risks.
Uber And The Penalties Of Operating In Pennsylvania
Pennsylvania judges proposed a $50 million fine for Uber for operating without license in the period between February 2014 and the granting of the experimental license in October of 2014. In response, Uber complained that the $50 million proposed fine qualified as excessive. The state settled a similar proposed fine of $7 million against Lyft for $250,000.
Uber In Philadelphia
The experimental license also specifically excludes Philadelphia. Yet, Uber now faces two actions in Philadelphia for operating there without a license. The City of Philadelphia has filed a lawsuit against Uber for operating without a license, seeking fines of $1,000 per day for operating without a license. The fine would total over $300,000. For its part, Uber alleges that state and city licensing laws do not apply to ridesharing companies. Yet it acknowledges that the company has provided more than one million trips within the city limits of Philadelphia.
The Uber Of Lawsuits
Uber also faces a lawsuit from Philadelphia taxi companies seeking damages over a million dollars. The city of Philadelphia requires taxi medallions to operate legally within the city. The medallions are fully transferable, but there is a limited number of them. As a result, the medallions used to fetch as much as $500,000 prior to ridesharing companies entering Philadelphia. Now, the price has dropped under $80,000. Alleging that the value drop results from Uber operating illegally within the city, owners of taxi medallions have sued the company for unfair business practices. It represents the second time Philadelphia taxi companies have sued Uber in the last thirteen months.
Pennsylvania Dept Of Insurance Issues Advice For Rideshare Drivers
For its part, the Pennsylvania Department of Insurance has issued an advisement to Uber and Lyft drivers to help them wade through the insurance issues involved in driving for these companies. Yet the risks involved in using these technologies remain high for both drivers and passengers. Full awareness of those risks is necessary for individuals and businesses to take the best course of action to mitigate them.