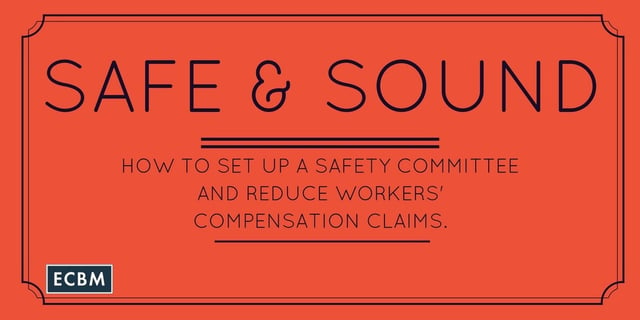 Planning and using the talent in your business to reduce injuries and worker's compensation claims by forming a safety committee. Kevin Forbes, Sales Executive for ECBM, has these tips to get you started.
SAFE AND SOUND
How to set up a safety committee and reduce workers' compensation claims.
An effective safety committee will lead to fewer workers' compensation claims and reduce your company's experience modification factor and premiums.
"With lower claims your company may be able to obtain quotes from insurance carriers with lower rates than you could in years past," says Kevin Forbes, sales executive at ECBM. "Lower claims may also provide alternative sources for coverage, such as captive programs and retention programs for companies that can effectively control their workers' compensation claims."
Smart Business spoke with Forbes about setting up a safety committee and driving down your workers' compensation costs.
What's the goal when forming a safety committee?
Employers who form safety committees are attempting to reduce injuries and meet compliance requirements of federal and state regulations. However, the overall goal should be to enforce and expand current safety procedures and continue to promote
the organization's safety culture. Safety committees also are an effective tool in analyzing and ensuring regulation compliance. Making sure your company guidelines meet Occupational Safety and Health Administration (OSHA) minimum standards in the facility, yard, on job sites and over-the-road is a key function of every safety committee. Training can be provided by outside, certified instructors, and then
committee members are responsible for passing on their training and monitoring new procedures.
Does a safety committee give you an insurance discount?
Depending on what state you are domiciled in, credits may be available. Pennsylvania offers a 5 percent credit to any employer who qualifies. New York and Delaware also offer credits, but New Jersey does not. To qualify, the safety committee has to meet guidelines laid out in the state's workers' compensation manuals and become state certified.
What ingredients do you need to set up a successful safety committee?
To get the best results, any safety committee must have complete support and involvement from top management. And once procedures are implemented, they need to be communicated to employees, strictly followed and monitored or effectiveness. The committee must meet regularly — typically once per month and at the same time for maximum involvement. Meetings shouldn't always be in a conference room;
some of the most effective meetings take place at job sites or on the factory floor. The committee should be formed with volunteer members — management and employees — who show an interest in making the workplace safer. Since these individuals identify safety issues, develop new procedures and communicate them to the rest of the workforce, they should be from positions that will be directly
affected.
Bringing on your insurance broker or risk manager as a member can be valuable. These individuals have the ability to analyze exposures and identify where the company is experiencing the most loss.
How important is employee buy-in?
Without it, the safety committee will never help create an effective safety culture. By getting employees who are leaders from each level in the organization involved, the views formed in the committee can be transmitted throughout the organization. Typically, when employees see a company invested and committed to keeping them safe, getting their buy-in is pretty easy. Management should also encourage
employee involvement and suggestions. Employees have a much better outlook on participating when they see their suggestions being taken seriously.
Are there any risks you should be aware of when establishing a safety committee?
Be sure to comply with the jurisdictional law that has been established regarding the creation of safety committees and follow the rules. Once the committee is established and the plan is in place, it's imperative to continue to run the committee in line with the mission on which it was established, which will include accurate record keeping.