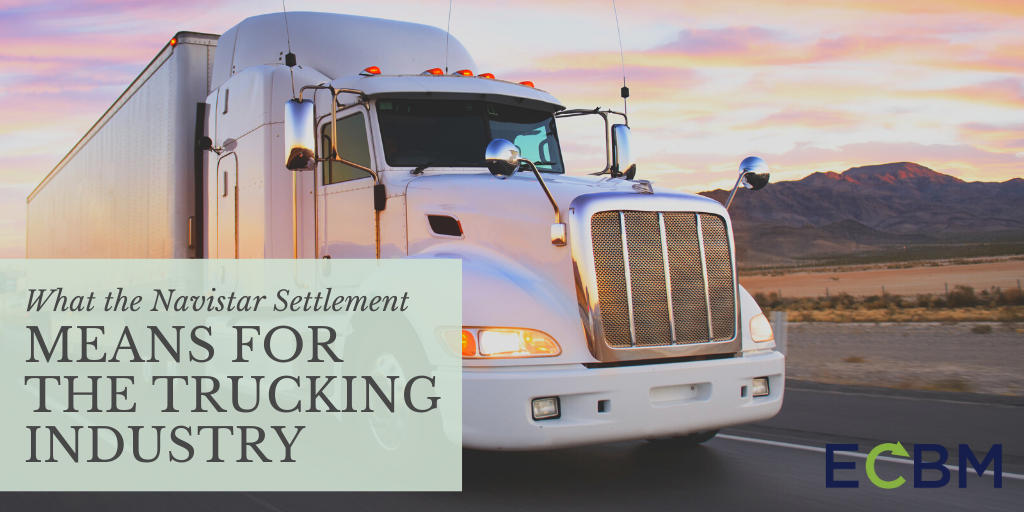 Emissions are a big issue in the transportation industry. As environmental regulators seek to drive down total emissions due to concerns over climate change and air quality, the industry must respond with improved engineering and try to balance the various costs of increased regulation. It is highly unlikely that the scope of these regulations or their costs will decrease over the coming decade.
Controls On Emissions Are Becoming More Strict
The challenges of complying with increasingly strict regulatory controls on emissions are shown by the recent Navistar settlement, which was just approved by a United States District Court Judge in Chicago. Navistar had produced thousands of defective trucks over a four year period at the start of the decade and now must pay out over one hundred and thirty five million dollars ($135,000,000) in a class action settlement.
Navistar Faced Production Problems
The Navistar story starts with higher emissions standards that took effect in 2010. The company had to update several of its truck engines to meet the higher standards. As part of a seven hundred million dollar research and development program to improve its engines, Navistar chose to use an exhaust gas recirculation system over selective catalytic reduction. That decision led to a host of problems with trucks produced by the company primarily from 2011 to 2014.
Increase In Breakdowns Reported
International trucks with MaxxForce 11 or 13 liter diesel engines suffered significant engine damage over time and a saw a large increase in the rate of breakdowns. It also led to heavy interim fines by the EPA as it took several years for the truck engines to come into compliance with the EPA regulations as the technology was developed.
CEO Forced To Resign
The impact of the engineering problems have been brutal for the company. It's CEO was forced to resign after the failure of the research and development program. The company had to pay over fifteen million dollars in securities litigation over claims it misled investors regarding that program's success. That amount was split between money owed to the Security and Exchange Commission and money owed to private investors who brought a class-action lawsuit.
A Separate Call For Reparations From Business Owners
The settlement approved earlier this month involved a separate lawsuit brought by truck owners and lessees of the impacted trucks. Over sixty-six thousand trucks are believed to be effected. Truck owners or lessees will be entitled to choose between the following damages:
• Twenty-five hundred dollars cash per truck
• Ten thousand dollars toward the purchase of a new truck, OR
• Fifteen thousand dollars in covered damages per truck.
Impact On The Brand And Ongoing Issues
The scandal had caused Navistar's stock price to drop to approximately fourteen dollars per share back in 2016, it's lowest price this century. The shares have since rebounded as investors try to look past the settlement, but the company's reputation has taken a hit and its profitability has continued to struggle.
What This Means For The Trucking Industry
The whole ordeal only highlights the need for the trucking industry to stay on top of environmental and emissions issues. Problems such as these at major manufacturers eventually get passed on to truck owners through higher prices and from there must be passed on to consumers. Trucking companies can wind up feeling the pinch if the market won't accept those higher prices.