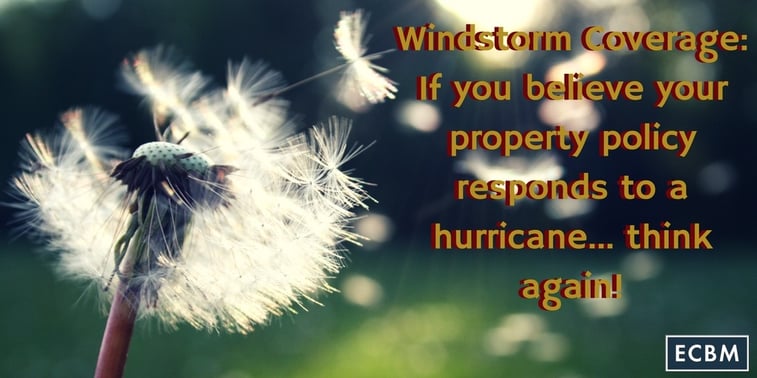 Original interview by Jayne Gest, Smart Business Network Inc.

The Atlantic hurricane season runs from June 1 to Nov. 30, and as a business owner in the Philadelphia area — only 50-75 miles from the coastline — you need to take the time to understand how your property coverage will respond to a hurricane or windstorm. If you don't understand your coverage and deductibles, along with any potential exposure, the aftermath of a hurricane can be devastating to your business, says Phil Coyne, vice president at ECBM.
"Your business could suffer significantly and your business may not recover," he says. "Or it may take longer to recover from the hurricane or windstorm, if you have not taken the time to review your coverage and develop a recovery action plan."
Smart Business spoke with Coyne about how to best ensure your property policy responds to the next hurricane, especially after the lessons of Hurricane Sandy.
What's the first step to assessing how your policy would respond to a hurricane?
There are many variables you need to cover with your broker to fully understand the impact of a windstorm loss and the coverage you have in place. Then, what type of deductible do you have? Is it a separate windstorm or hurricane deductible? If there is a separate deductible for windstorm or hurricanes, does the deductible apply via a percentage, subject to a minimum dollar amount? Or is it simply a dollar amount. Is your location in a specially defined area? For example, in respect to the risk exposure of wind, much of New Jersey is classified as a 'wind area,' which could change how coverage works and applies.
How did Hurricane Sandy shed light on how hurricanes and insurance coverage work?
The biggest lesson learned was that when you have a hurricane or a storm the size of Sandy, there are multiple causes of loss and types of coverage that can be involved in the actual loss. These might include windstorm, flood, power outages, civil authority, etc. If you had a claim, what was the actual cause of loss? It may have required you and your broker to review the actual cause of the loss and what type of damage further in order to 'trigger' the proper coverage.
Is there anything else that became apparent when dealing with Sandy's claims?
By far, the largest losses came from loss of business income, which can be complicated and lengthy to resolve. So, as a business owner, you need to not only review the coverage you had to rebuild your physical structure but also what type of coverage
is needed in order to recover your loss of income and continuing expenses. You need to review your operations to determine what and how a shutdown of services would impact to your business. Then determine what coverage you can obtain to best recover or reduce that loss of income. Do you have off-premises power or dependent property coverage? You should consider how you operate beyond any main location and your supply chain.
What best practices would you recommend?
Work with your broker to understand the policy's terms and conditions, as well as the exposure you have for a loss, not just to your property but also to business income, which can be more devastating. You want to develop a plan ahead of time, so if you
do have a loss, you can hopefully minimize the loss and get back into business quicker. The more proactive you are before the loss in understanding the impact of the loss on your business, the better off you will be at the time of the loss.
If you know a storm is coming, and typically there is time to react, look at your business exposures and figure out a way to minimize the potential for loss, such as moving stock or coming to an agreement to use someone else's premises that may be away from the storm or in a better situation.
With Hurricane Sandy, one company proactively brought in generators, refrigerated trailers and supplies, which saved the insurance company a significant amount of money. When the carrier saw this, not only did it cover the cost the company incurred in trying to prevent losses, but also when renewal came around, there wasn't a big impact. The insurance company recognized it had a partner in its insured.