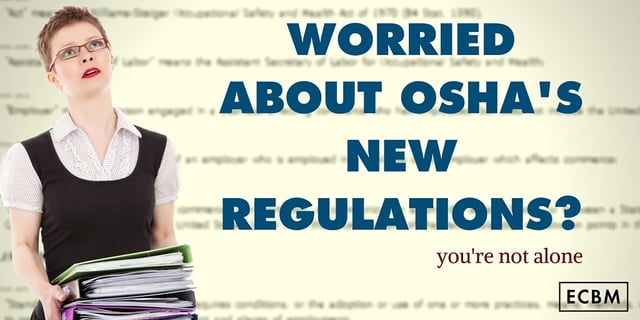 Different rules are in the process of being enforced over the next two years. Businesses are concerned with facing losses in their employee candidate pools and in court with vague guidelines being enforced.
WHAT HAPPENED?
The Occupational Safety and Health Administration (OSHA) issued a significant new rule this month. The new rule attempts to attack workplace safety through two new regulations. One would require large employers (those with at least 250 employees) to submit their illness and injury reports electronically and would allow the public to search this information. The agency expects approximately 34,000 will fall under the new reporting requirements.

Additionally, certain high hazard firms with between 20-249 employees will fall under a slightly lesser reporting guideline that will post simply the total number of injuries and illnesses combined with the company's total number of hours worked.
Pros & Cons of New OSHA Requirements

These reporting requirements will allow the agency to create a searchable public database that includes specific incident information scrubbed of employee identifying information. OSHA hopes the public disclosure of employer safety records in high hazard injuries will act as an incentive for employers with bad safety records to improve their management and workplace safety conditions.
Agency officials have compared the new database to the posting of restaurant cleanliness information through the use of letter grades. Having a bad safety record known to the public can affect a company's ability to hire new workers, attract investors, or promote a positive public relations image. OSHA believes the negative attention attracted by publicizing this information will increase employer focus on workplace safety. Check out this Infographic- What is Reportable To OSHA?


BUSINESS CONCERNS
Several companies and industry associations have reacted negatively to the new rule. There is concern about increased reporting requirements and the attached administrative cost. Others worry that the searchable database will result in the publication of information that fails to paint a complete picture of a company's safety records.
Room For Issues With Vague Guidelines

OSHA has issued new reasonable reporting requirements and anti-retaliation provisions. Specifically, the rule requires that employers inform employees of their right to report work-related injuries without retaliation. It also requires that employers establish reasonable procedures for the prompt and accurate reporting of injuries. OSHA has previously issued guidance on what it considers reasonable or unreasonable reporting procedures, but some critics still criticize the vagueness of the new rule.

One aspect of the new rule sure to draw attention is the section on post-injury drug testing. OSHA believes a post-injury drug test that occurs without evidence of impairment should be considered unreasonable and retaliatory. This does include an exception for drug testing necessary to comply with federal and state laws.
WHAT BUSINESSES NEED TO DO NOW

The new rule will be phased in over two years, giving employers time to update their policies and procedures appropriately. Litigation seeking to either delay implementation of the rule or clarifying it during enforcement proceedings seems likely.
Still, employers in high-hazard industries should begin reviewing their existing compliance programs, safety incentive programs, and recordkeeping procedures to ensure a smooth transition.