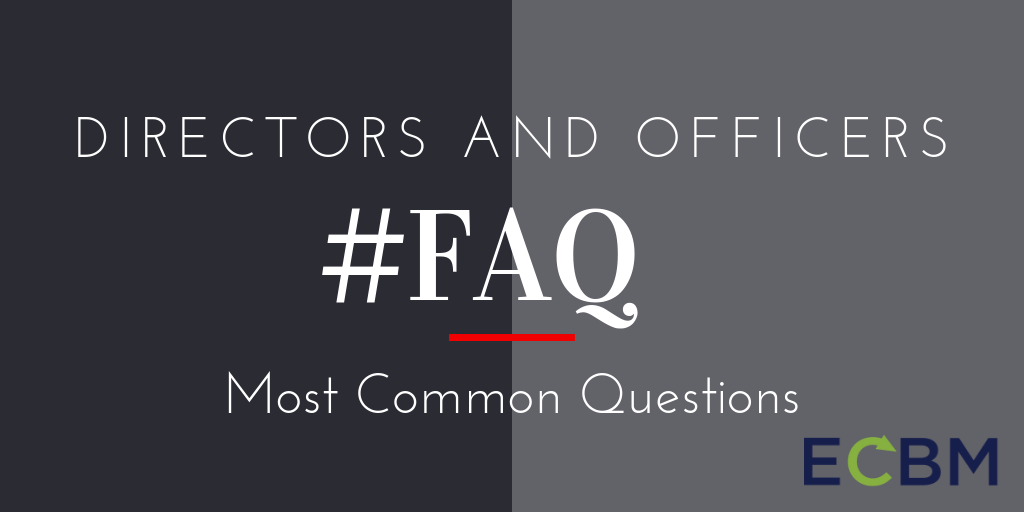 When people think of Directors and Officers Liability Insurance, they often think of massive, publicly traded multinational corporations and shareholder derivative lawsuits that allege damages in the billions of dollars. This can lead smaller, private companies to assume that such coverage does not provide them with significant benefits. Yet these policies can cover a number of different types of losses that impact small companies. All businesses should consider whether directors and officers liability coverage might help them better manage their risks.
What Is A D&O Policy?
At its most basic, a directors and officers liability policy acts as a type of professional liability coverage for the people in charge of running a business or other organization. When a director or officer makes a mistake through negligent that results in a lawsuit, the policy can provide coverage providing that the terms of the policy are satisfied. Examples may include reporting or disclosure errors in company financial statements or regulatory actions brought by the Securities and Exchange Commission. D & O policies can also include employment practices liability coverage, protecting the company from allegations of discrimination in the workplace. These policies can also provide coverage for certain kinds of fiduciary breaches, a significantly growing area of litigation where many companies have exposures.
What Is Included In A Directors And Officers Policy?
Directors and Officers Liability policies include a number of semi-unique features. They are often issued on a claims made basis, meaning the policy in effect when the claim is reported to the company controls coverage, not the policy in effect when the act giving rise to the claim occurred. These policies are often defense within the limits policies as well, meaning the money spent fighting a lawsuit applies towards the total aggregate limit of the policy. Additionally, D&O policies generally only protect against financial losses; they will not cover bodily injury or property damage resulting from officer negligence.
Are Only Directors And Officers Covered By A D&O Policy?
While the name implies that only a companies' directors and officers are covered, many insurance companies over expanded coverage down to managers and lower level employees. Also, a growing number of companies include entity coverage, meaning losses and suits against the company itself will be covered. This matters more and more as lawsuits against directors and officers brought by external sources often name the entity as well.
I Have A Small Company. Do I Really Need To Spend Money On A Directors And Officers Policy?
Directors and Officers liability policies for closely held private companies often are available for very reasonable premiums. As a single loss in this area can easily cost a company hundreds of thousands of dollars in legal fees alone, the premium is often a worthwhile investment. Interested companies should speak to their broker to assess their exposures and see if they can find coverage to meet their needs.