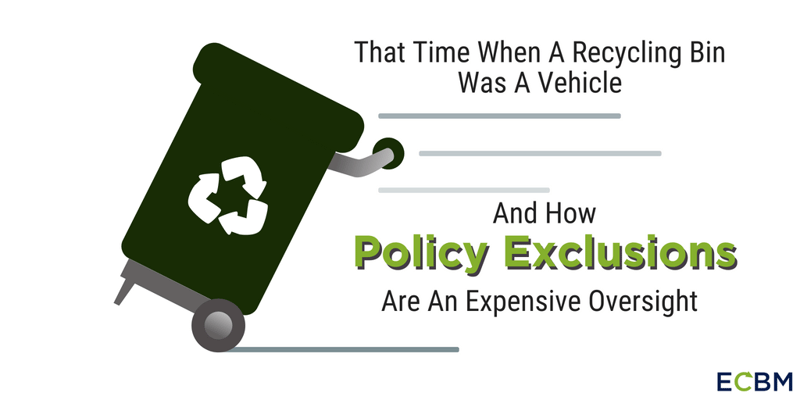 In claims handling and litigation, a little creativity with definitions can help advance a case forward. Occasionally, though, that creativity gets pushed a little too far. Fireman's Fund recently won a declaratory judgment ruling they did not owe coverage to a luxury apartment building. The case hinged on the interpretation of a relatively simple word in the insurance policy - "vehicle."
What Happened?
Fireman's Fund sold 1070 Park Avenue Corporation an all-risks insurance policy covering damage to the property at 1070 Park Avenue. In July of 2016, recycling workers with New York City's "e-cycle" program for the recycling of electronics damaged the gas meter at 1070 Park Avenue while installing a new recycling bin. The building began to smell of gas, and therefore the entire building's gas supply had to be shut off.

Expensive and Lengthy Repairs
The Administrative Code of New York City mandates that once gas is shut off to a building, it cannot be turned back on until the system passes an integrity test. The integrity test involves much higher pressures than the gas system commonly experiences. To pass the integrity test and turn the gas back on, 1070 Park Avenue had to pay over $550,000 to install new meters and repair their gas lines.

Exclusion In The Policy
Undoubtedly aware of the Administrative Code of New York City, Fireman's Fund had included a Gas Systems Endorsement as part of the insurance policy. The Endorsement specifically excluded losses related to integrity testing of a gas system. The exclusion had only one exception: the insurance policy would cover losses resulting from integrity testing if and only if the testing was required because of physical damage to the property resulting from "fire, lightning, explosion, aircraft or vehicles, . . . ".

How Could A Recycling Bin Be A Vehicle?
With $550,000 on the line, 1070 Park Avenue Corporation had to find a way to argue that this loss fell within the listed exceptions to the Gas System Endorsement. Their lawyers chose to argue that the recycling bin constituted a "vehicle" under the terms of the policy. Relying on dictionary definitions of the word "vehicle," the Plaintiff claimed that because the recycling bin had wheels, was mobile, and was used to carry things around; it qualified as a vehicle.

Judgment In Favor Of The Insurance Company
In a twenty-two page opinion, the Judge disagreed. The Court relied on several other cases interpreting insurance policies to look beyond mere dictionary definitions. While the meaning of "vehicle" was not defined in the policy itself, the Judge found that its meaning was unambiguous in this case. A mobile trash can did not qualify as a vehicle for the sake of this insurance policy.

Know Your Coverages And Exclusions That Could Hurt Your Business
Cases like this can provide a bit of humor to seemingly dry topics, but they're also worthwhile in that they show how important it is to understand the various coverages and exclusions contained within your insurance policies. A firm grasp of your coverages is vital to knowing your remaining exposures and preparing for them. It might also help you spot a little wiggle room in a definition if you're in a tough spot.