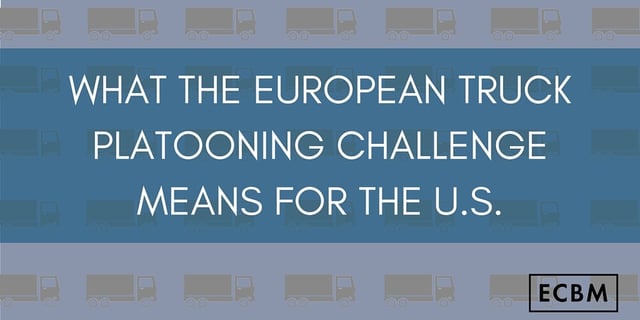 As advancements in autonomous vehicles continue, the impact on the trucking industry could be massive. Self-driving technology possesses the potential to reduce significantly the number of accidents and therefore the loss exposure for long-haul truckers. These technologies, however, can lead to significant savings even outside the possibility for accident reduction.
A number of car companies investing in autonomous vehicles recently held a "platooning" test in Europe. Platooning involves a number of trucks driving autonomously connected to each other over a wireless networks. The trucks are able to drive synchronously with each other, so that they all break and accelerate together. The connection allows the trucks to drive much closer together, reducing drag and saving fuel. Some estimate the technique could save as much as 10% fuel costs. It also might significantly reduce carbon emissions.
Volvo and Daimler were two of the companies who took part in the test. Groups of trucks left their place of manufacture to converge on Rotterdam, Holland in advance of a meeting of European ministers to discuss transport and logistics issues across the European Union. The results of the test were generally promising.
It's worth noting that each of these trucks did have a driver on board. The drivers were responsible for steering while the on board computers controlled speed. So for now, these trucks do not offer much of a solution for the driver shortage plaguing the trucking company. Additionally, the regulatory framework for these trucks, both in Europe and the United States, will undoubtedly be complicated, especially as it comes to the coursing of state and national borders.
Still, though, technology continues to present the opportunity for major overhauls in the trucking industry. Companies need to stay abreast of a changing world to avoid being left behind.
See the Volvo trucks in action: