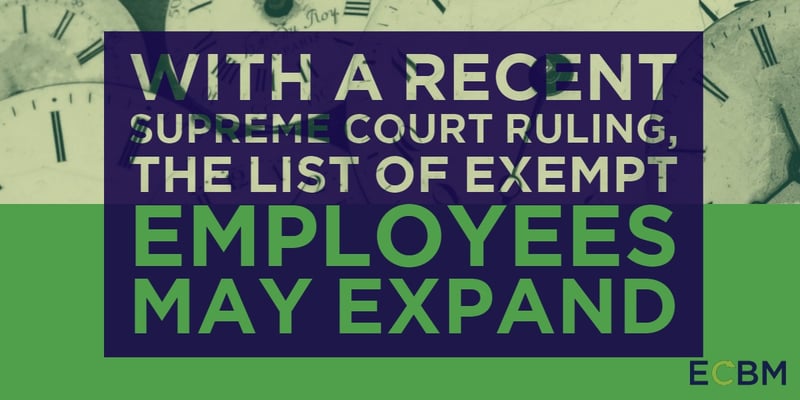 Like with many areas of employment-related regulation, standards regarding overtime exemptions have seen considerable instability in recent years. During the Obama years, the Department of Labor sought to significantly expand the number of employees eligible for overtime. Those regulations faced a difficult time in litigation in front of various federal district courts before the new administration rescinded them. Now, a recent decision from the United States Supreme Court has significantly expanded the way in which the Department must analyze exemptions, increasing the number and types of employees that employers can avoid paying overtime.
Exemptions For Overtime Pay
The Fair Labor Standards Act, originally enacted in 1938, requires that anyone working more than forty (40) hours a week receive overtime pay. However, the law contains a number of exemptions to that requirement, including for executive or management employees and those employees making above a certain salary. The law has also consistently contained a number of industry exemptions.
Overtime Pay Exemptions For Service Advisers
Encino Motors, LLC v. Guerrero involved exemptions applying to certain workers at car dealerships. The law generally exempts salesmen and mechanics generally engaged in selling or servicing cars at car dealerships from receiving overtime pay. Questions have existed for some time as to whether this exemption covered service advisers. The Department of Labor has changed its position on this issue more than once and federal courts have also taken different views of the question over the years. The most recent change in the Department of Labor position came in 2011, when the Department decided that service advisers did not qualify as exempt employees and were therefore entitled to overtime. The change prompted a lawsuit for back pay by service advisers at a Mercedes Benz dealership in California.
The List Of Exempt Employees May Expand
The Supreme Court found in a 5-4 decision that a service adviser did qualify as exempt from overtime pay under the statutory exemption for salesmen and service people at car dealerships. The case partially turned on a lengthy discussion of the various meanings of the word "or" and whether it had a disjunctive or distributive meaning within the context of the particular part of the statute. More importantly however, the Supreme Court explicitly overturned substantial precedent that exemptions to the Fair Labor Standards Act should be construed narrowly. This part of the ruling will probably expand future litigation on the broadness of certain exemptions under the law, with employers likely to find some success in expanding the class of employees not entitled to overtime pay.
Overtime Exempt Employees, Minimum Wage, and Commission
It is worth noting that for the specific dealership involved in this case and their employees, the distinction may not matter much going forward. Another Fair Labor Standards Act generally exempts employees who earn more than half their compensation from commission from overtime eligibility so long as their hourly rate exceeds 150% of the minimum wage. With the FLSA minimum wage standing at $7.25 an hour, the minimum wage in California ($10.50 an hour) is already almost 150% of that amount. Even with relaxing federal standards, state laws may render some of those standards inapplicable or meaningless.