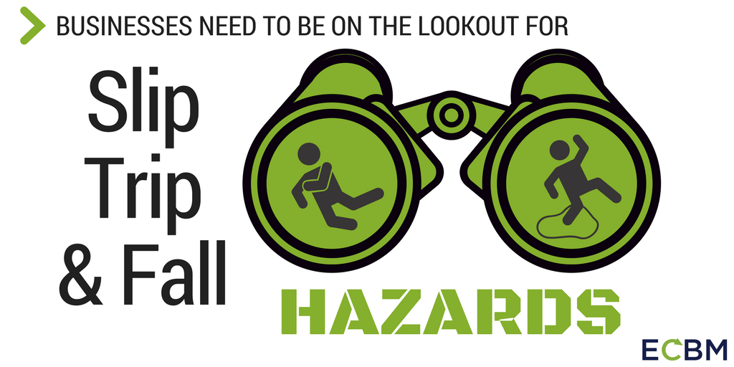 Slip and fall torts can pose a major liability to many businesses. While these accidents may seem harmless, several recent lawsuits have seen damages paid out in the tens or hundreds of thousands of dollars. Lost wages and allegations of permanent disability can increase the value of a claim. Slip and fall accidents put businesses in a difficult position, as even where the business may feel it acted appropriately, the cost of ongoing litigation can make contesting a lawsuit a money-losing proposition.
Slip And Fall Accidents & Your Insurance
Slip and fall accidents fall under the heading of premises liability claims. These claims cover damage to customers and employees caused by unsafe or defective conditions on a commercial or residential property. Plaintiffs injured in a slip and fall will often sue a number of entities when making their claim, especially when a number of different entities may be involved in the management of a property. This may include the property owner, a business entity leasing the commercial space, and typically a property management company. It can also include franchisees and franchisors.
Evidence In Slip In Fall Cases
To succeed in a slip and fall case, a plaintiff must prove a number of allegations. These generally follow the elements of any negligence lawsuit: 1) duty, 2) breach, 3) causation, and 4) damages. Within the context of a slip and fall case, this generally means that the injury must be caused by a dangerous condition, that the entities owning, controlling, or managing the property were aware or should have been aware of the dangerous condition, and that those entities failed to take appropriate action to remedy the condition or protect the public from it.
Slip And Fall Injury Case Defense
Proving or defending against negligence claims in a slip and fall case can present a number of difficulties. "Many stores have installed video surveillance partly to protect against unfounded claims by customers", says Phil Coyne, Vice President at ECBM. "In the absence of such evidence, though, proving how long a dangerous condition existed before the accident (to show that a store owner should have known of the problem) or that a store owner had actual notice of the condition can be problematic. The violation of state or federal statutes such as building codes or the Americans with Disabilities Act can also be the basis of a negligence claim for a slip and fall accident."
Other Types Of Defense
On top of these issues, many slip and fall lawsuits involve allegations of contributory or comparative negligence. These allegations are a defense to the lawsuit that argues that the plaintiff bore some or all of the responsibility for their accident. For example, maybe the plaintiff ignored a wet floor sign or failed to observe an obvious condition because they were too busy looking at their cell phone instead of where they were walking.
Business Owners Should Be Prepared For Injury Claims
Protecting against slip and fall lawsuits involves both the purchase of appropriate insurance and the implementation of good risk management techniques. Businesses with regular foot traffic should have clear procedures for checking and resolving conditions that could cause a slip and fall, as well as sound record keeping in relation to the procedures and where possible appropriate surveillance. They also need a combination of business owners' insurance, property insurance, and workers' compensation insurance. Talk to your broker today to make sure you are protected.