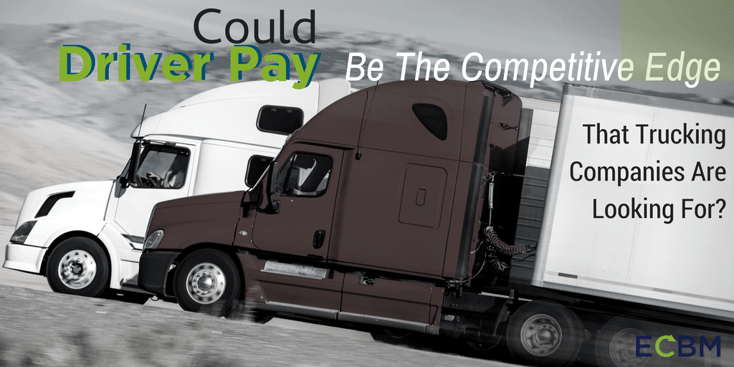 The trucking industry is set for a series of big changes over the coming decades. A lot of these changes will come from new technologies and range from more efficient and better equipped trailers to better tracking andlogging devices to fully autonomous trucks. While many of these improved technologies have the potential to save trucking companies money, one non-technological change on the horizon may wind up costing them... and that is driver compensation.
Common Ways That Truck Drivers Are Compensated
Companies have begun to question the ways in which they compensate their long-haul truckers. Currently, most companies pay their drivers per mile, but a number of issues arise with this practice. First, paying per mile fails to compensate drivers for time spent at loading and receiving docks or for spending necessary time logging their hours and miles. Second, the amount of money paid per mile has not truly increased since the 1980s, despite significant long-term inflation over this time period. Third, the pay per mile system does not take into account improved technology resources that make it far easier to track the productivity and efficiency of drivers. READ MORE: Hours Of Service Regulations Pros And Cons For Trucking Companies
Compensation Troubles For Long-Haul Truckers Compounds The Driver Shortage Issue
Taken together, these issues can cause a number of problems for trucking companies. Kevin Forbes, Vice President at ECBM says, "Most industry experts believe that trucking in general and the long-haul truck industry in particular faces a shortage of drivers." He adds that, "This trend is only expected to grow worse, as the industry will need to add almost 100,000 drivers a year for the next decade to keep up with demand. " READ MORE: 10 Hiring Resources To Connect CDL Drivers With Businesses
At A Point Where The Industry Is In Danger Of Collapse
Low pay or pay that fails to incentivize drivers properly in your company can lead to other companies poaching, forcing your company to hire more new drivers or drivers with worse safety records. Pay per mile can also create a moral hazard, rewarding a driver for violating federal and state laws on hours driving maximums. At the same time, increasing pay for drivers can either cut into a company's profit margins or force it to charge more to customers, driving them to use competitors instead.
New Solutions For Compensation To Incetivize Better Drivers And Results
Many trucking companies have chosen to combat this problem by offering drivers a number of different pay packages. These can include paying drivers an hourly rate for those times when they are working but the truck is not in motion. They can also include safety and performance bonuses. Some companies even offer drivers the opportunity of pay packages that may pay less in exchange for earning paid time off at a faster rate.
Is Your Company Getting The Best Bang For Your Buck?
Trucking companies face several risks if they fail to keep pace with the rest of the industry on issues such as driver compensation. Companies need to examine their practices to see if they are maximizing the value they obtain from their employees while still being able to retain and hire the best of the best. Now is as good as time as any to see how your driver pay practices align with your overall company goals.