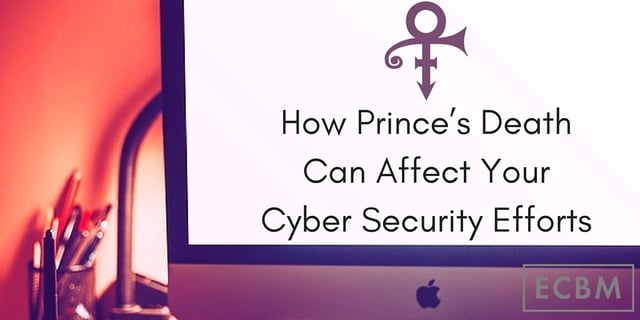 WHAT HAPPENED?
The music artist Prince was found dead at his home in Minnesota Thursday morning. An autopsy will be done on Friday 4/22/2016.
Here's why this is worth mentioning: usually when a musician passes away there is a bump in music downloads and people listen to streaming services to memorialize them. That's usually all fine and good, album sales go up, there's trending on twitter, and there is an overall virtual outpouring of support.
Unfortunately these sad times are the perfect opportunity for Social Engineering Scams. Celebrity Deaths (or even death rumors) are like natural disasters, holidays, and other major news stories. New websites are created, the high-demand content is scrubbed, dubious emails are drafted, and links to websites loaded with malware and viruses are circulated on social media.
RELATED:
THE PRINCE AND THE HACKER
Here's what makes Prince's passing the perfect storm for social engineering scams.
Due to the ownership rights on his material, Prince's music is not available on streaming services (Pandora, Spotify, and the like).
There are very limited selections in legal music download services (like iTunes).
This leads many to consider *dramatic pause* illegal file download services. This social engineering tactic being used here is mostly on the victim's side.
A person want a resource, and they let their guard down to acquire it; meaning that a person may take steps and go to lengths that they normally wouldn't. Read more about Social Engineering tactics here.
I'm going to warn you now that it's not worth it- the hackers and scammers have already created those websites I mentioned earlier promising this hard-to-find content. So instead of Purple Rain, you can be exposed to ransomware and instead of Doves Crying, you will be.
DANGER FROM THE SEARCH BAR WHEN A CELEBRITY DIES
There's also the usual method of trapping unsuspecting victims- over 10,000,000 searches for "Prince" were made through Google on April 21st 2016- Making it by far the most popular search of the day. In fact, 10 of the top 20 searches were related to Prince.
WARNING:
If you type "Prince Death" or something like that in search, you may be redirected to a malware site so please visit trusted websites for news and updates.
WHAT CAN I DO?
Some Tips:
Only visit known, trusted websites for your news updates. (CNN, MSN, TMZ, etc)
If you want to listen to his music, the best choice you have is to purchase or dig out your Cds
If you are looking for an online fix, visit Youtube (Youtube.com) for some of the created playlists. There are some licensed music videos and you'll be better off staying within Youtube's ecosystem rather than visiting a random website offering a download of Little Red Corvette that's really a wolf in grandma's bed (a virus/ Trojan/ bad thing will happen. I'll stop with the puns now)
Please also consider that links may make it through your email spam filters promising a link to the latest news. Please do not click them. There is a notorious one going around about "Prince's Final Words." These links will most likely point you toward a malicious site containing malware, viruses, and the like.
CONCERNED ABOUT YOUR WORKPLACE?
There was a great post from KnowBe4 with a sample email that you can send inside your company to help mitigate the urge to click. CLICK HERE