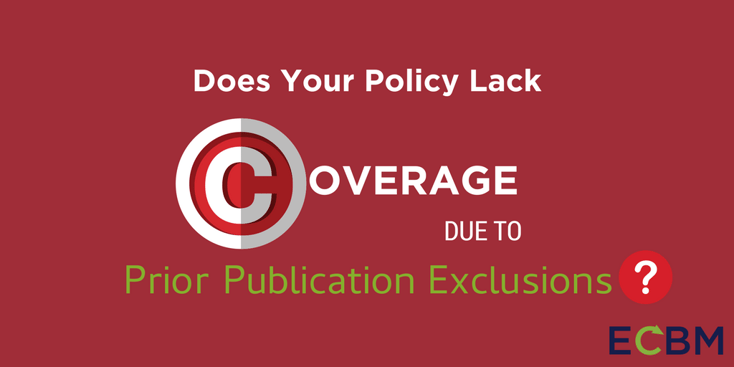 Standard commercial general liability policies and umbrella policies cover what is known as "advertising injury." This coverage applies where a company causes damages to a third party through its advertising, either by defamation, violation of copyrights or trademarks, or violations of privacy rights. As with many types of coverage, however, companies need to understand the exclusions applied to these types of claims to best address their loss exposures.
What Is A Prior Publication Exclusion?
The prior publication exclusion is a major exclusion within the coverage for advertising injury. Many insureds facing copyright advertising claims expecting a fully funded defense and indemnification from their insurance company have found their claims denied as a result of it. Simply put, the prior publication exclusion states that the insurance company will not cover advertising injury claims when the first publication of the damaging material occurred prior to the start date of the policy.
Coverage Depends On Effective Dates
Determining what constitutes prior publication can lead to protracted litigation between an insured and their insurance company, greatly increasing claim costs for both parties. A company's advertising and marketing may follow a similar motif or blueprint; litigation focuses on whether publications that occurred prior to the start of the policy at issue bore substantial similarities to the advertising giving rise to the lawsuit.
Examples Of Lawsuits Against Retailers And Their Insurance Company
Two interesting cases in late 2014 and mid 2015 helped draw out this distinction. Street Surfing v. Great Am. E&S Ins. Co. involved a company that had made an in-line skateboard using a name, logo, and advertising that another person had already trademarked, while Hanover Ins. Co. v. Urban Outfitters, Inc. involved a lawsuit by the Navajo nation against Urban Outfitters for the appropriation of names and symbols owned by the Navajo tribe.
The Problem Of Developing Your Trademark Before Your Business Insurance Policy
The Ninth Circuit U.S. Court of Appeals in Street Surfing stated that in analyzing "substantial similarity" as that term is used in the prior publication exclusion, courts should examine the relationship between the alleged wrongful acts manifested by the different publications. In other words, "[a] post-coverage publication is 'substantially similar' to a pre-coverage publication if both publications carry out the same alleged wrong." A company may seek defense and indemnity through its advertising injury coverage where a lawsuit alleges that new material commited fresh wrongdoings that occurred during the policy period, but not where a complaint alleges the continuation of the same wrong conduct. This led to Street Surfing's lawsuit against its insurance company being dismissed, since the alleged wrong conduct involved their name and logo, which they began using prior to the start of their policy.
No Duty To Defend Or Indemnify If Violations Started Before And Continued After Effective Date
Hanover Ins. Co. v. Urban Outfitters, Inc. involved a significantly different procedural posture. Whereas the policy at issue in Street Surfing was the first the company had apparently ever purchased, Hanover Ins. Co. involved a dispute between insurance companies as to which policy would have to cover and defend against the lawsuit. Hanover had provided Urban Outfitters with commercial general liability and umbrella liability coverage starting on July 7, 2010, whereas before that, the business had purchased these coverages from OneBeacon. Still, the The Third Circuit U.S. Court of Appeals applied the same reasoning in its approach to what constituted a substantially similar prior publication. As it specifically related to that case, the Court found a continuous string of trademark violations by Urban Outfitters dating back to March 19, 2009, before the start of the policy issued by Hanover. Therefore, the Court relieved Hanover of both its duty to defend and its duty to indemnify Urban Outfitters from the Navajo lawsuit.
The standards established by these court cases involve fact intensive determinations. "Companies need to be alert to the exclusions contained in their policies to ensure they receive coverage appropriate to their needs and risk levels, " says Dan Slezak, Vice President at ECBM. He adds, "Being alert involves sound advice from an insurance broker who knows your company well. "