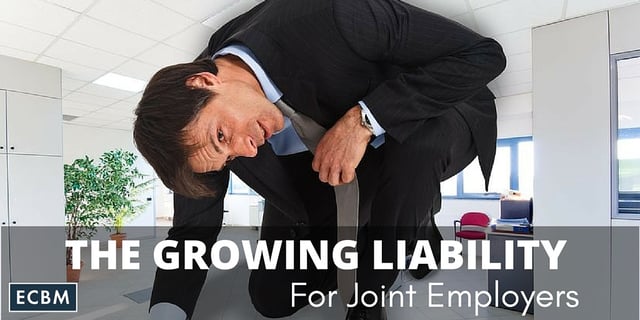 Recently, labor advocates have won a many key victories in the field of joint employer liability. Under the old rules and laws, employers could shield themselves from liability on some key issues by using placement firms to hire and manage temporary workers. Issues such as discrimination, taxation, and fair labor standards were left to these agencies while the company could focus instead on core competencies.
However, recent decisions by the Department of Labor and the Equal Employment Opportunity Commission have re-evaluated the standards for joint employers- and may hold companies liable for violations even when hiring temporary employees through staffing agencies.
The Federal Third Circuit (Pennsylvania, New Jersey, and Delaware) has joined these departments in expanding the scope of joint employer liability.

Faush v. Tuesday Morning, Inc.
(Opinion filed November 18, 2015)
Matthew Faush was employed by Labor Ready, a staffing firm that provides temporary employees to a number of clients, including closeout home-goods retailer Tuesday Morning, Inc. Over the course of a month, Labor Ready sent temporary employees to a new Tuesday Morning store in Pennsylvania overseen by store manager Keith Davis. The temporary employees were asked to unload merchandise, set up display shelves, and stock merchandise on the shelves in preparation for the store's opening the followig month. Faush was assigned to the store for ten days; each day, he generally worked for eight hours with nine other temporary employees.
Faush alleges that he and his African-American coworkers were "terminated" after several events including a concern about loss prevention from the store manager.
The Court of Appeals for the Third Circuit held that a temporary employee (hired through a staffing agency) had the right to have the question of whether he had established an employment relationship with the store to which his staffing agency assigned him submitted to a jury.

In Faush, an African-American employee filed a complaint alleging racial discrimination against Tuesday Morning, Inc. Faush received his employment at Tuesday Morning through Labor Ready, a staffing agency. Faush had a labor contract with and was paid by Labor Ready. But Tuesday Morning performed most of the managerial duties with respect to Faush's employment.
Factors In An Employer- Employee Relationship With A Joint Employer
In determining which factors to consider in determining whether an employer-employee relationship exists, the Third Circuit looked to the Supreme Court's opinion in Nationwide Mut. Ins. Co. v. Darden, 503 U.S. 318 (1992). Under Darden, a Court and/or a jury must look to the entirety of the relationship between the putative employer and employee to determine whether an employment relationship exists. This includes who paid wages, who hired and fired the employee, and who assumed "control over their daily employment activities."
The Third Circuit specifically emphasized that this approach permitted an employee to have two employers.
Originally, the District Court in Faush had issued an order for summary judgment in favor of Tuesday Morning. A summary judgment requires that even making all reasonable factual inferences in favor of the losing party, that party still could not convince a reasonable and rational jury that they should prevail.
An Overturned Judgment
The Third Circuit overturned the order for summary judgment. The Third Circuit found sufficient factual support in the record that would enable a reasonable jury to find that Tuesday Morning had sufficient control over Faush's employment and that an employer-employee relationship existed. (One must also note that Tuesday Morning's contract with Labor Ready required Tuesday Morning to provide a workplace free from discrimination of the type alleged by Faush.)
What Should You Do If You Hire Temporary Workers?
As circuit court and administrative agencies continue to expand the liability of joint employers, companies that use staffing agencies and placement firms must keep abreast of these changes to ensure they fully understand their rights and duties with respect to their employees and have the appropriate insurance coverage to protect them if losses occur.