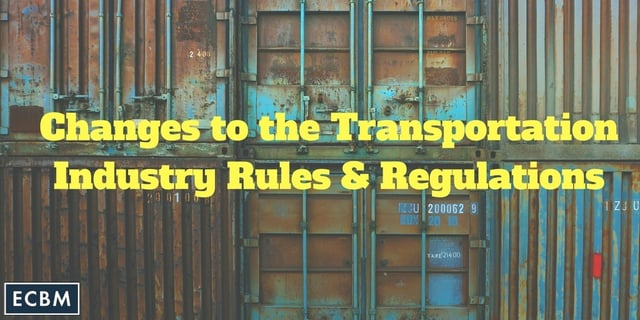 Here are some important resources with the main points that will effect the trucking industry this year...
Hazardous Cargo
Effective January 2013, with the exception of Hazardous Materials violations, cargo related BASIC severity levels count towards the motor carrier and driver Vehicle Maintenance score, the motor carrier overall SMS rating and subsequent intervention status. DOT studies show that unsecured cargo carries a high propensity to cause commercial motor vehicle crashes. Load characteristics such as size, weight and the nature of load (liquid, dry freight, bulk, vehicle in tow, passenger, over-dimensional, etc.) vary by-fleet and greatly alter and affect the vehicle handling and stability.
http://tvesafety.com/Communications.html
Driver Logs
Drivers operating under the 395.1(e) exceptions may not drive if more than 8 consecutive hours have passed since the last off-duty period of at least 30 minutes. Because they are not required to maintain records of duty status ("logbooks"), they are not required to record the break periods.
Conducting On-Site Investigations
The Federal Motor Carrier Safety Administration (FMCSA) has released new materials to assist motor carriers in identifying and addressing their safety and compliance issues. These materials include the Safety Management Cycle (SMC), an important tool that Agency Safety Investigators use during on-site investigations. The SMC is able to identify safety problems, their root causes, and safety solutions. Additionally, FMCSA is releasing eight SMC job aids which were originally created for enforcement personnel. There is one job aid for each Behavior Analysis and Safety Improvement Category (BASIC). The Vehicle Maintenance BASIC has two SMCs: "Inspection-Repair-Maintenance" and "Cargo-Related."
https://csa.fmcsa.dot.gov/resources.aspx?locationid=56
Driver Retention
Turnover rates for truckload drivers who are part of large fleets resumed its pattern of heading up in 2012 according to the American Trucking Associations (ATA). This marked the fifth time in the last six quarters driver turnover has risen. ATA officials said that the turnover rate for large truckload fleets moved up 2 percentage points to 90 percent for its highest level since the first quarter of 2008. And the turnover rate for smaller fleets – with less than $30 million in revenue – moved up much higher during the quarter with a 16 percent gain to 71 percent, which was its highest level since the second quarter of 2008.
http://tvesafety.com/Documents/Safety%20Messages/MaxumMonthlySafetyUpdate_January2013.pdf
A Meeting Of The Minds
After sharing his passion and knowledge of the trucking industry with insurance professionals for 30 years, Tommy Rukes has developed a new program to continue the sharing of information that affects the insurance provided to "truckers" with insurance professionals and the motor carrier industry. With the help of many people, the Motor Carrier Insurance Education Foundation (MCIEF) and Transportation Risk Specialist (TRS) are now happening. Register for upcoming February 14th webinar to learn more.
https://mail.acegroup.com/OWA/UrlBlockedError.aspx