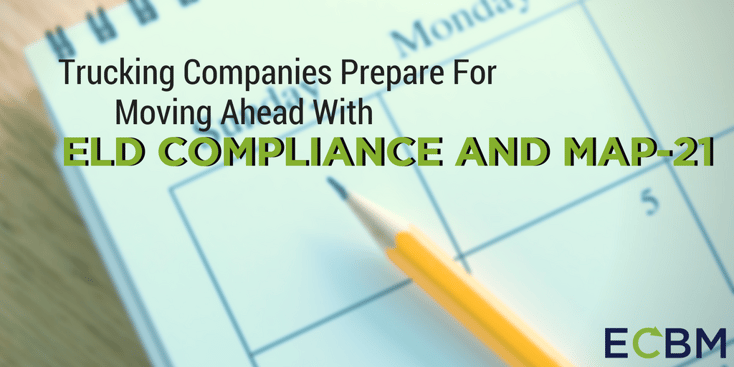 The Federal Motor Carrier Safety Administration's new rule requiring the use of electronic logbooks goes into effect on December 18, 2017. The rule has inspired protests from owner-operators and was the subject of last minute attempts to secure an override in the House of Representatives despite the support of the American Trucking Association.
Moving Ahead For Progress With Many New Initiatives
Congress specifically mandated the creation of The Electronic Logging Device Rule as part of a piece of legislation known as the Moving Ahead for Progress in the 21st Century Act (also known as MAP-21). President Obama signed MAP-21 into law on July 6, 2012. MAP-21 aimed at reforming several aspects of federal highway programs, including the consolidation and reduction of a number of funding programs as well as attempts to speed up the environmental review process for new projects. One provision of the law required that the Secretary of Transportation institute new regulations making the use of electronic logging devices mandatory.
Implementation of Electronic Logging Devices
December 18, 2017 marks the start of the transitional phase of the new rule. During this phase, new trucks must use electronic logging devices as must truckers and trucking companies that had no previously used similar devices. However, the rule does provide for a two year period during which companies that had used automatic onboard recording devices can transition to devices compliant with the new rule. A number of newer AOBRDs can switch to ELDs by means of a software upgrade.
ELD And Hours of Service
Kevin Forbes, VP Transportation at ECBM, says, "The rule also puts some additional requirements on drivers and companies. Now, vehicles can only operate for a maximum of eight days without an ELD if their current electronic logging device breaks. Truckers must also keep blank logbooks on hand for this eventuality." In addition, A number of ELDs operate primarily by integration with a phone or tablet, raising concerns for drivers about what happens if the phone or tablet breaks or runs out of battery. Companies will need to have policies in place to address these issues, or any others related to the devices they choose to implement."
Implementation At The Business Level
Those trucking companies and owner-operators who have not already begun to update their trucks now must do so on a short timeline. Experts have suggested a six month timeline to upgrade a moderate sized fleet. Beyond just the time to install and configure the devices, fleets will need to spend considerable time training their drivers, their dispatchers, and their compliance staff and how to use the new devices. The rule requires that drivers have control over any edits to their logs, for example, so they will need to be familiar with the processes for doing so.
Many Regulations On The Trucking Industry At Once
Ultimately, the FMCSA and the ATA expect the change to electronic logging devices to considerably streamline hours of service tracking and thus enhance trucking safety. The transition however will take time and present challenges, especially for those individuals and companies used to doing things by hand. A thorough review of the new regulations coupled with a focus on driver training and compliance will be necessary to avoid running into trouble. ECBM can assist you through the transition.