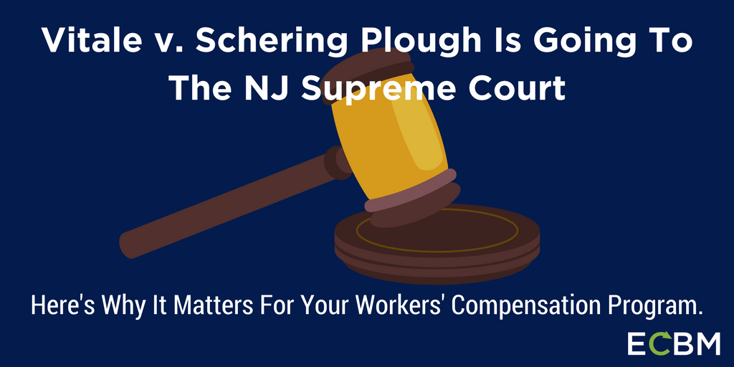 The Supreme Court of New Jersey recently accepted a case that could have far reaching implications for how employee relations and worker's compensation are handled moving forward. The case, Vitale v. Schering Plough, involves the validity of third-party lawsuit waivers in employment contracts. Lower courts have found that such waivers violate public policy and are thus unenforceable.
Vitale v. Schering Plough
Allied Barton Security hired Philip Vitale to act as a security guard in 2005. At that time, Allied Barton made Philip Vitale sign an employment contract that included a "Worker's Comp Disclaimer". The Worker's Comp Disclaimer stated that the company's worker's compensation insurance would cover any expenses for reasonable medical treatment and then required the employee to waive any rights he might have to sue a customer of Allied Barton for injuries sustained on the job.
In 2009, Philip Vitale suffered an injury while working at a facility owned by Schering Plough as a security guard. He tripped and fell down a set of stairs to a basement and experienced long-term cognitive difficulties and significant head, neck, and back pain. He commenced a negligence lawsuit against Schering Plough. Schering Plough moved for summary judgment on the basis of the third party liability waiver in Philip Vitale's employment agreement, but the Judge denied the motion and a jury awarded the plaintiff $900,000 in damages. Schering Plough then commenced an appeal.
How The Court Ruled In The Case
The appellate court found the third-party liability waiver unenforceable because it violated New Jersey's public policy as exemplified in that state's Worker's Compensation Act. The Court cited precedent calling New Jersey's Worker's Compensation Act "social legislation designed to place the cost of work-connected injury on the employer who may readily provide for it as an operating expense." Therefore, jurists must construe the Act in a liberal manner to accomplish its beneficial purposes.
NJ Different In Workers' Compensation Disclaimers
The Court expressed concerns that allowing liability waivers would work against those purposes. Interestingly, the Court did acknowledge that courts in Pennsylvania and the District of Columbia had upheld Allied Barton's Workers' Comp Disclaimer as enforceable in other cases, but looked to unique provisions of New Jersey's law to find differently.
Removing Consequences For Companies Could Mean Ignoring Safety Concerns
The Court also expressed concerns that allowing such waivers would disincentivize companies like Schering Plough from taking appropriate action to ensure the safety of contract workers on its job sites. The stairwell that caused the injury to Mr. Vitale was rarely used by the company's own employees and was mostly used by security guards, janitorial workers, and IT professionals all contracted to other companies. If Schering Plough had waivers of third party liability in the employment contracts of all three companies, it would have no need to monitor the stairwell for safety and take corrective actions when alerted to a safety hazard.
New Jersey's Worker's Compensation Act does explicitly provide for recovery from third parties, with employers and their reinsurers able to recover reimbursement from amounts won by plaintiffs through subrogation and whatever amounts that exceed that reimbursement going to the Plaintiff. Nothing mentioned in the case would prevent Allied Barton or its insurer from pursuing subrogation against Schering Plough; the waiver would only really prevent an employee from seeking amounts in excess of Worker's Compensation from the Allied Barton customer.
The Case Will Be Taken To The NJ Supreme Court
Now the case is in front of the New Jersey Supreme Court to see if that Court will agree with the decision of the appellate court or if it will agree with courts in Pennsylvania and the District of Columbia that these waivers can be enforced. Either way, companies need to be alert to the impact cases like this have on their employment contracts and the cost of their workers' compensation insurance.