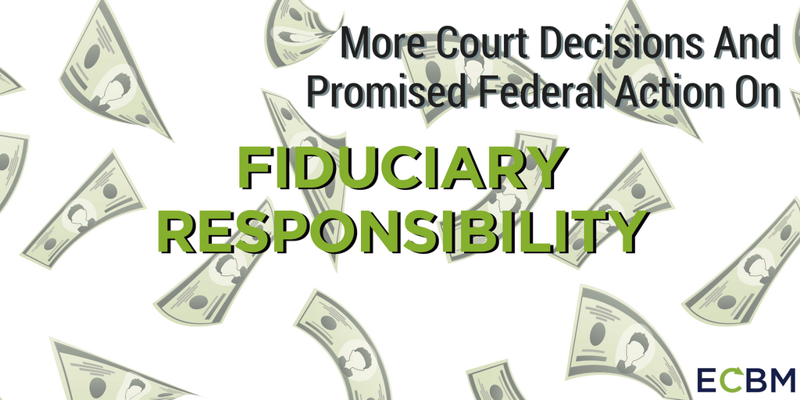 On March 15, 2018, the United States Court of Appeals for the Fifth Circuit dealt Obama era regulations their most recent defeat. In the wake of numerous other overturned rules by regulatory action or executive order, a federal court struck down the Department of Labor's fiduciary rule. The rule revised the definition of who constituted a fiduciary of retirees under the Employee Retirement Income Security Act ("ERISA") and changed the exemptions available to advisors who sought to earn commissions for investment advice.
Why Did The Fifth Circuit Strike Down The Fiduciary Rule?
The Fifth Circuit struck down the fiduciary rule on several grounds. Most importantly, it found that the Department of Labor's new definition of a fiduciary exceeded the Department's statutory authority, as the new meaning significantly expanded the class of people considered a fiduciary from the description found in the ERISA statute. Specifically, the Fifth Circuit found that the new rule would intentionally include salespeople within the definition of fiduciaries despite the fact that Congress (according to the Fifth Circuit's interpretation) meant to exclude salespeople from being considered fiduciaries.
The Best Interest Contract Exemption
The Court also found that the Department of Labor's abused its powers to exempt prohibited transactions in issuing the new fiduciary rule. According to the Court's reasoning, the Department's creation of the Best Interest Contract Exemption proved that its definition of fiduciary was not feasible and that included transactions the Department had no desire or authority to regulate. It also considered the Best Interest Contract Exemption an attempt to create a private right of action for individuals to sue pal advisors of IRAs; something had Congress had generally rejected.
Different Courts With Different Outcomes
Interestingly, two days earlier, the United States Court of Appeals for the Tenth Circuit had affirmed other regulatory changes made under the fiduciary rule. The case in front of the Tenth Circuit, Market Synergy v. Department of Labor, involved the treatment of different types of annuities, all regulated under ERISA. The Department of Labor had chosen to regulate fixed index annuities differently than it regulated fixed rate annuities, making it harder for sellers of fixed index annuities to earn commissions on their sale. Discussions show that the Tenth Circuit reviewed the numerous decisions and considerations established by the Department of Labor and they found that the Department acted reasonably and within its authority.

The Fifth Circuit decision technically only stands in states over which the Fifth Circuit has authority: Texas, Louisiana, and Mississippi. The existence of a circuit split and the possibility of one version of the fiduciary rule applying in 47 states while another applies in 3 states significantly increases the likelihood that the Supreme Court will hear the case. At the same time, the Department of Labor, under new leadership, has announced an intention to review and revise the rule. The one thing that seems inevitable in this area going forward is more uncertainty.