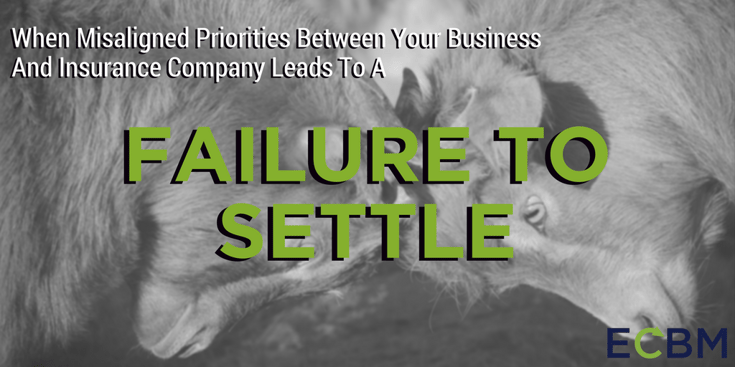 Insurance litigation can put commercial businesses in a number of complicated binds. Often times, the interests of the policyholder and the insurance company providing their defense do not align perfectly. This part of the reason insurance companies will often provide their policyholders with independent counsel, commonly referred to as Cumis counsel. These misaligned interests can also present themselves as part of efforts to settle a case.
A Failure To Settle May Be Due To Different Goals
The most common example of this problem arises when a plaintiff makes an offer to settle a case within the limits of the insured's policy. The insured, worried about the potential for a verdict in excess of their policy limits, wants to take the settlement offer since it negates their own exposure. The insurance company, though, knowing they'll be responsible for paying the settlement, may desire to litigate the case despite the possibility for excess exposure if they feel they can limit their payout either through a jury verdict finding no liability or by mitigating damages in front of the jury. The policyholder and the insurance company have completely different motivations when it comes to settlement.
Settlements & Policy Limits
This works out this way due to the nature of policy or incident policy limits. The insurance company only has financial responsibility for claim payouts in the window between the amount of the deductible and the amount of the policy limit. If a claim on a policy has a $50,000 limit, there is no difference in the amount paid by the insurance company between a $50,000 settlement and a $100,000 jury verdict, even though it makes a big difference to the policyholder. In the same vein, for the policyholder, there is no difference in payout between a $10,000 jury verdict and a $50,000 settlement, though it may make a big difference to the insurance company.
Good Faith Efforts May Be Ignored
This structure gives incentive for insureds to settle while at the same time incentivizing insurance companies to litigate in many cases. As a result, insurance companies can sometimes get caught failing to make good faith efforts to settle a case. Most states address this issue by representing an independent cause of action by a policyholder against an insurance company who acts in bad faith by failing to settle a case. The general standard for determining what constitutes bad faith involves asking whether the insurance company's decision not to settle was intelligent, honest, and objective. READ MORE: The Duty to Defend: Your Insurance Company Is In Your Corner
Making A Bad Faith Claim Against Your Insurance Company
If a jury does find that an insurance company acted in bad faith in failing to accept a settlement offer, it can open up the insurance company to responsibility for any amount by which the verdict exceeded the insurance policy. In other words, by failing to accept a settlement offer under the policy limits, the insurance company can negate the policy limits and become responsible for the entire verdict. Oftentimes, in order to expedite matters, a policyholder will reach an agreement with the plaintiff whereby the policyholder assigns their rights to bring a bad faith claim against the insurance company to the plaintiff. READ MORE: Navigating The Pits & Perils Of Reservation Of Rights
The Result Can Effect Your Business
"Because the results of a verdict in excess of policy limits can cause real damage to policyholders, they need to be aware of their legal rights and obligations in these situations, as well as keeping an eye on the competing interests of the different parties to any lawsuit in which they are involved," says Shane Moran, VP, ECBM