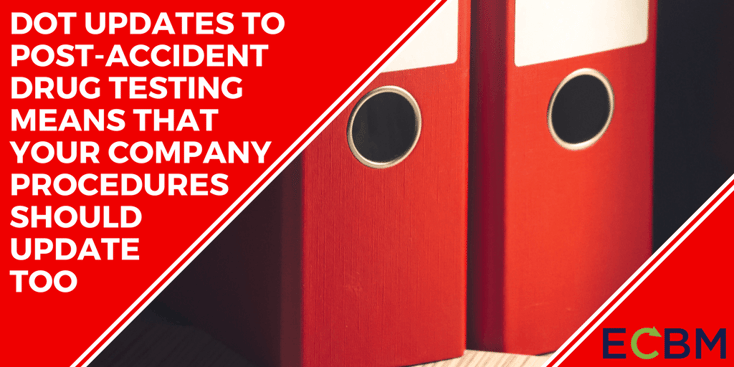 As various parts of the United States federal government move to address the growing opioid crisis, the Department of Transportation has updated its drug testing policies to include a stronger focus on testing for painkillers. Published on November 13, 2017, the new policy went into effect on January 1, 2018. It brings the Department of Transportation's drug testing rules into harmony with new rules issued by the Department of Health and Human Services. The new rules will apply to employers regulated by the Department of Transportation, including the Federal Motor Carrier Safety Administration. That means trucking companies will fall under the purview of this rule change when it comes to pre-employment and post-accident drug testing.
DOT Updates Post-Accident Drug Test
The Department of Transportation regulations focuses on the traditional five panel drug test. This test aimed at finding metabolites of marijuana, amphetamines, cocaine, phencyclidine (more commonly known as PCP), and opioids. Previously, the drug panel test aimed at finding abuse of heroin, codeine, or morphine under the opiates category. The updated testing policy will expand the metabolites tested for under the opioid category to try and detect abuse specifically related to hydrocodone (Vicodin), oxycodone (Oxycontin), hydromorphone (Dilaudid), and oxymorphone. It also changed the name of this category from opiate to opioid, for whatever that's worth.
Criticism For Expanded Testing
Commenters on the rule change have raised concerns that the expanded testing will lead to delayed testing results as well as unnecessary pinging drivers with a valid legal prescription for the use of some of the new substances included in the expanding opioid testing. The Department of Transportation has taken the general position that these opiates, while legal, are not necessarily safe for drivers falling within their jurisdiction to take. To that end, physicians may want to consider finding alternative prescriptions for those drivers subjected to potential testing.
Trucking Companies Will Need To Update Their Policies
Because of the changes to the policy, those employers that use specific language with regard to drug testing policies will have to update their policies and provide their employees with notice as to the changes. Regulations allow companies to simply refer to the appropriate regulatory section in discussing their drug policies; companies that have chosen instead to list the specific drugs tested for and the cut-off levels for a positive test for those substances will have to make sure their testing language is updated to reflect the new Department of Transportation rule. READ MORE: Workplace Injuries And How They Relate To The Opioid Crisis
Kevin Forbes, Vice President at ECBM says, "Significant regulatory changes always represent a good time for employers in these areas to review their policies and ensure they are doing everything possible to remain in compliance with the rules and to minimize their exposures." To that end, in the process of updating their drug-testing procedures, trucking companies should take a good look at their policies and try to fix any gaps that may exist before they run into trouble with the Federal Motor Carrier Safety Administration.