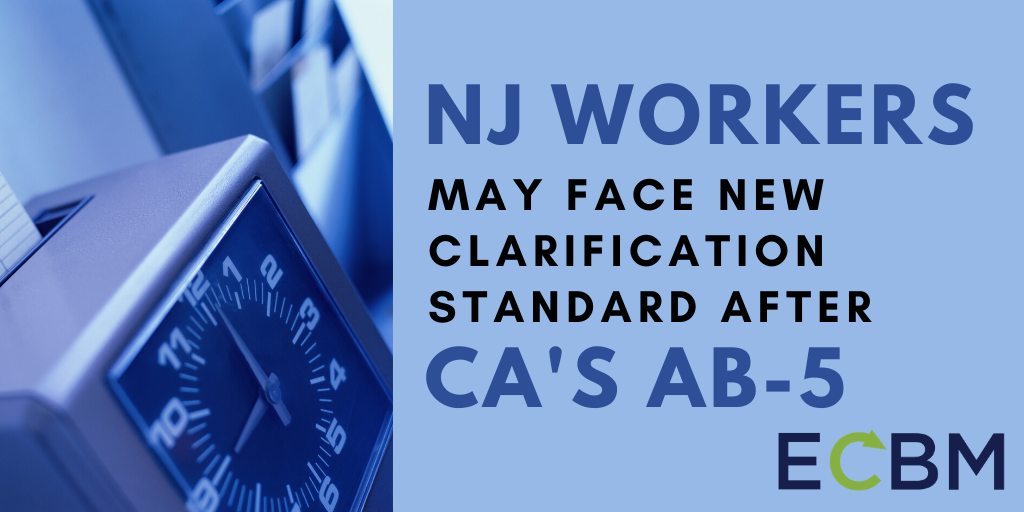 In the aftermath of California's aggressive attempts to crack down on the "gig" economy, other states have moved as well, though often in different directions. While many states have moved to pass laws specifically designed to protect the status of "gig" workers, New Jersey is in the process of passing its own attempt to regulate these workers. Indeed, the proposed New Jersey legislation would go so far that it would classify almost all workers in the state as employees and make it incredibly difficult for someone to claim independent contractor status.
More Difficulty in Classifying Workers As Independent Contractors
The New Jersey proposed legislation specifically states, "[i]ndividuals who perform services for remuneration shall be deemed employees, not independent contractors." The law does allow for an exception, but that exception outlines the test enunciated by the California Supreme Court in its Dynamex decision, which was widely seen as implementing a standard that made it very difficult for employers to classify workers as independent contractors.
What is the Dynamex Test?
The Dynamex test requires that independent contractors meet three requirements to avoid classification as employees. First, they must be outside the control and supervision of their employer or customer. Second, they must perform an activity outside the scope of their employer's or customer's normal business. Third, the individual must be set up as business performing that type of work.
Gig Workers And Independent Contractors
States have raised a number of concerns regarding gig workers and the proliferation of businesses claiming to use independent contractors. The most important of these from the state perspective involve the collection of payroll taxes. Companies pay this tax on employees, but not on independent contractors. Employee advocates also raise concerns that independent contractors are not subject to the same laws on workers compensation or wage and hour requirements, leaving them unprotected if misclassified.
Problems For Companies In The Gig Economy and Transportation
The New Jersey law is being met with considerable opposition for now. Companies like Uber and Lyft, who classify their drivers as self-employed contractors, are expected to lobby against it heavily. Trucking companies have also raised concerns about how the law might affect owner-operators with whom they do business. Other legislators are already introducing amendments seeking to blunt aspects of the proposed law. Freelance journalists and designers have also raised concerns that the law might limit their ability to sell a lot of work to only one or two magazines or newspapers.
Business Owners Are Speaking Up
At a public hearing, many business owners testified about their concerns regarding the legislation's broad sweep, but the measure still passed out of committee by a three to one vote. The bill will eventually move to the floor of the New Jersey Senate, where it will generate even more debate before potentially becoming law.