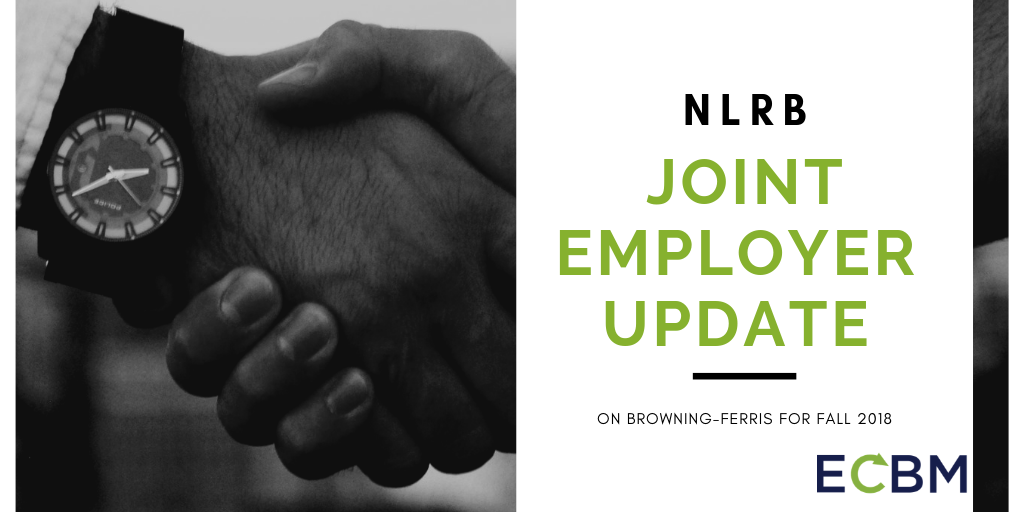 The next step in the long running saga over the Browning Ferris rule has finally arrived. After the National Labor Relations Board issued its decision in Browning-Ferris in 2015, a wave of lawsuits, regulatory challenges, and attempted legislative overrides put the future of that decision into doubt. An overturning of the rule became a key focus of the new administration in charge at the National Labor Relations Board. The board even issued a decision that purported to overturn the rule only to have that decision retracted due to an ethics issue. Now, on September 13, 2018, the Board has issued a new proposed regulation that seek to overturn the Browning-Ferris decision.
Joint Employer Test Rules Continue to Seesaw
The dispute focuses on how to determine when an employee might have two different employers for the purpose of establishing liability for labor law violations. The Department of Labor and National Labor Relations Board have seesawed back and forth between various tests for half a century or more. Browning-Ferris had marked a return to an employment standard regularly used until the 1980s, while the new rule will re-implement the standard used from the 1980s until 2015.
What Is The Difference Between The Tests?
Both tests focus on the level of control exercised by a possible secondary employer. The major difference between the two tests is that the Browning-Ferris test allows indirect control to establish an employer-employee relationship. The new standard (which is also the old standard), being called Hy-Brand after the case that was overturned due to the ethics issue, requires that employers exercise direct and immediate control. The difference between direct and indirect control means that there will be far fewer findings of joint employer status at the federal level under the new standard.
A Relief For Contractors
The new rule will come as a relief to many contractors working with subcontractors as well as franchises. Critics of Browning-Ferris had argued that it created a great deal of uncertainty for companies in these relationships in terms of what might be considered joint employment. At the same time, shortly after its publication, the new rule came under a separate wave of criticism for being even less restrictive than the pre-Browning standard. People within and without the NLRB have also criticized the attempt to use the rulemaking process to circumvent the ethical issues that prevented the Board from overturning Browning-Ferris via the adjudicatory process.
The Sage Will Probably Continue
Under the rule-making process, the NLRB must now wait sixty days to receive comments regarding the new rule before it becomes final. Once that happens, litigation is almost certain to follow. This saga isn't ending anytime soon, so employers are advised to keep an eye on developments in this matter to understand where their potential risks may lie.