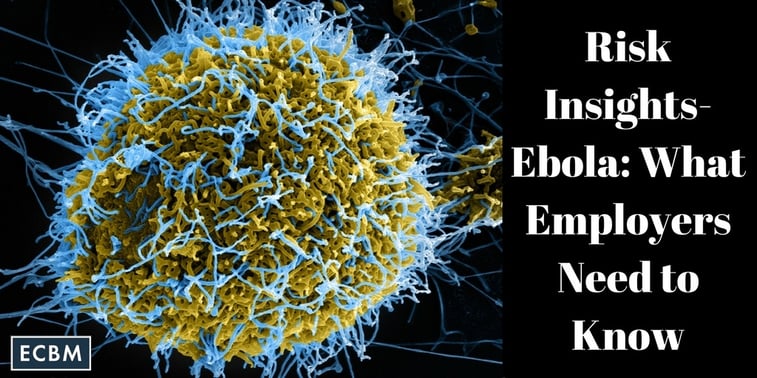 Ebola virus disease, also called Ebola hemorrhagic fever, is an extremely infectious virus if contracted and has a high mortality rate. But according to the Occupational Health and Safety Administration (OSHA), Ebola does not pose a threat to most workers in the United States.
Some industries may be more likely to encounter Ebola than others, such as health care, airline services and mortuary care. According to OSHA, workers who interact with people, animals, goods and equipment arriving from foreign countries with current Ebola outbreaks are the most at risk for contracting Ebola.
Though not every industry is at risk of encountering the virus, employers should still know how to handle the situation in case the risk is presented. The following are several employment laws, OSHA regulations and workplace safety issues that employers should consider.
Personal Protective Equipment
If there is a risk of exposure to Ebola in your workplace, OSHA standards state that as an employer, you must provide employees with the appropriate personal protective equipment (PPE) in order to protect them from the hazard. You must also train employees on how to properly use and maintain the PPE as well as require them to use it in hazardous situations.
Appropriate PPE to protect against Ebola exposure includes respiratory protection, gloves, impermeable body coverings, and face shields or other eye and face protection. The PPE you require your employees to use must be able to prevent bodily fluids from coming into contact with employees' skin and clothing. In an environment where large amounts of blood, vomit, feces or other bodily fluids are present, you may need to provide additional PPE such as double gloves and disposable shoe and leg coverings.
Workers who interact with people, animals, goods and equipment arriving from foreign countries with current Ebola outbreaks are the most at risk for contracting Ebola.
Workers' Compensation and Disability Benefits
If an employee contracts Ebola as a result of exposure in the workplace, the employee's wages, medical treatment and disability benefits would be covered by your company's workers' compensation insurance. You should check your policy to be sure the limits of your workers' compensation coverage include occupational diseases.
Americans with Disabilities Act
Even if you have the suspicion or fear that an employee may develop Ebola, you cannot exclude the employee from the workplace or ask the employee to undergo a medical exam to determine whether they have the virus. You also cannot request that an employee undergo a medical examination based on their national origin, such as an Ebola-stricken West African country. These acts are prohibited under the Americans with Disabilities Act (ADA), which regulates when an employer can make medical inquiries of an employee and when an employer may require an employee to undergo a medical examination.
You are allowed to ask an employee whether they have traveled to a country affected by Ebola and whether they have been exposed to it. If an employee has recently returned from a country affected by Ebola, you cannot require an employee to take a leave from work for the duration of the 21-day Ebola incubation period, but you can request that an employee stay home and treat the absence as paid leave.
Whistleblower Protection
Ebola is a frightening virus. Because it is so dangerous, an employee could refuse to work if there is an actual presence of the virus or if there is a reasonable probability that employees may be exposed to it at the workplace. In this type of situation, the employee is engaging in protected activity under Section 11 (c) of the Occupational Health and Safety Act, and the employer is prohibited from terminating the employee or retaliating against them for refusing to work in conditions that make the employee feel unsafe.
Family and Medical Leave Act
Ebola would likely be considered a serious health condition under the Family and Medical Leave Act (FMLA), which applies to employers with 50 or more employees. If an employee contracts Ebola, they are entitled to up to 12 weeks of unpaid leave under FMLA. If the employee's spouse, child or parent is diagnosed with Ebola, the employee can also use unpaid leave to care for his or her immediate family member.
OSHA Multi-employer Citation Policy
OSHA's Multi-employer Citation Policy states that "more than one employer may be citable for a hazardous condition that violates an OSHA standard." This means that if Ebola is present in your workplace, you have a legal obligation to protect the employees of another employer as well as your own employees from exposure. For example, if you hire subcontractors to complete a project and they are exposed to Ebola (or any other hazard) in your workplace, OSHA can cite you (as the host employer) as well as the subcontractors' employer for exposing the subcontractors to the hazard.
This Risk Insights is not intended to be exhaustive nor should any discussion or opinions be construed as legal advice. Readers should contact legal counsel or an insurance professional for appropriate advice. © 2014 Zywave, Inc. All rights reserved.