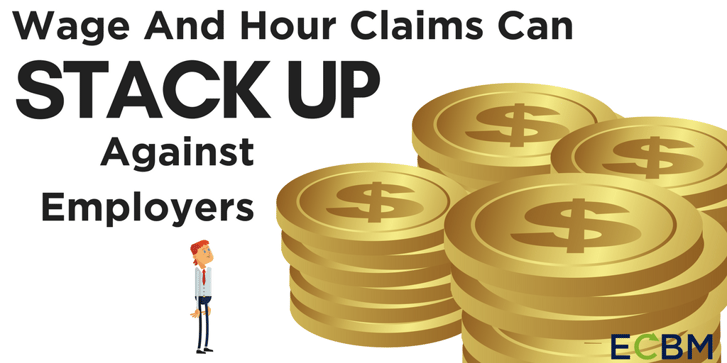 Wage and Hour litigation continues to increase across most types of businesses in the United States. The number of cases filed in the US reached an all-time high in 2015. Unsurprisingly, industries with large number of service jobs caused the majority of cases and losses: hotels, restaurants, leisure companies, as well as department stores and supermarkets. The nature of these suits can vary but often involve multiple claims - misclassification of employees, failure to pay or calculate overtime properly, breaking rules on rest periods and meal periods, as well as a host of violations relating to the paying of tipped employees.
I
Due Back Pay Plus Damages Stacks Costs For Employers
I believe that one factor that helps propel wage and hour claims forward is that both the Fair Labor Standards Act (FLSA) and many state labor laws allow for the award of "liquidated damages" in these cases. In this instance, liquidated damages entitles successful plaintiffs to receive double the amount of back pay to which they would normally be entitled provided they prove the employer acted in bad faith. So if an employer underpays and employee by $10,000, the employee can recover the $10,000 they are owed plus another $10,000 for liquidated damages.
Several state and federal courts have had to tackle the question of whether an employee could recover double damages under both state and federal law, essentially turning double damages into treble damages. Some courts have stated that a plaintiff may recover both sets of additional damages while others have barred it as double recovery.
How Courts Are Ruling In These Cases
As one example, Evans v. Loveland Automotive Investments involved a truck driver suing a trucking company for unpaid wages. The truck driver sought recovery of his unpaid wages, liquidated damages under the Fair Labor Standards Act, and a 175% penalty imposed under the Colorado Wage Claim Act because the defendants willfully failed to pay the owed wages.
CO In Favor Of A Penalty
The Tenth Circuit allowed recovery of both the liquidated FLSA damages and the 175% penalty. The Court held that this did not constitute double recovery because the 175% CWCA penalty and the FLSA liquidated damages provision served two different purposes: the FLSA liquidated damages are compensatory damages meant to ensure the employee does not bear the cost of the delay in receiving wages due, whereas the CWCA penalty were punitive damages meant to punish the employer and discourage future violations. One should note that this entitled the truck driver to a potential recovery of over $27,000 plus attorney's fees and costs from an unpaid wages that totaled approximately $7,250.
NY State Sees This Issue Differently
In New York on the other hand, a recent decision from the United States Court of Appeals for the Second Circuit barred this type of double recovery. New York modified its labor laws in 2010 to increase the damages for unpaid wages portion of the law from 25% of unpaid wages to 100% of unpaid wages.
Previous New York Court decisions (prior to the change in the law) had permitted double recovery for reasons similar to those used by the Court in the Colorado case discussed above. The change in the law had resulted in split decisions at the trial court level in New York. The Second Circuit found that because the NYLL now used language that was substantially similar to the FLSA, both New York Labor Law and the FLSA provided liquidated damages as a form of compensatory damages. Therefore, to permit a plaintiff to recover both types of liquidated damages would equal a double recovery.
An Ounce Of Prevention...
I think that these cases help demonstrate the importance to employers of having good procedures in place to ensure compliance with wage and hour laws as well as having good insurance in place in case compliance fails for any reason.
The costs of losing these suits can quickly skyrocket even where courts do not allow double recovery. Further, the state by state nature of double recovery requires that companies pay close attention to the rules they may be subject to in every state in which they operate.